Site Accommodation Hire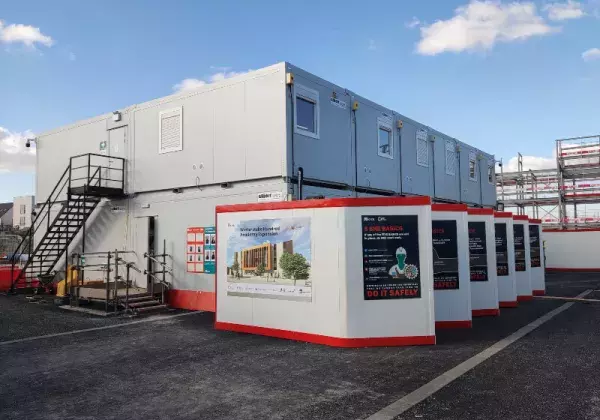 Hire site accommodation from the market leaders
Algeco is the market leader in site accommodation hire, which means we understand the needs and challenges of life on-site and have a wide range of solutions to match. The expertise we have gained over decades has helped us build relationships with most of the leading construction contractors in the UK, so you can talk to us about all your site cabin needs. We can help you with all types of construction site cabins, from fire-rated modular buildings and anti-vandal buildings to site offices and welfare units.
A complete site accommodation solution
From generators and storage containers to security gatehouses and portable toilet hire, you can hire everything for your site from Algeco, for as long as you need it. We're highly experienced in delivering just the basics - a storage container, portable toilet unit and a site cabin - through to whole construction site accommodation villages made up of scores of linked and stacked units. We even have standard site office layouts with the most popular features as ready-for-rent units on our hire fleet, so we can deliver what you need even faster.
Flexible layouts
Hire site accommodation in a layout that suits you. We offer construction site cabins in a wide range of sizes and specifications, including our market-leading Moduflex modular building range, designed specifically for temporary use. Moduflex provides almost infinite space and flexible office layout configurations for your temporary site accommodation. Plus, it's installed faster and more easily than conventional modular systems as it needs only minimal foundations.
Anti-vandal site accommodation
Our temporary site accommodation features an anti-vandal construction which is tough, durable and deters unwanted attention. As individual units, anti-vandal site cabins for hire can be positioned virtually anywhere on site, grouped together or separately, and linked and stacked to create larger facilities as your developments grow.
Turnkey site cabin solutions
Your temporary site cabins can arrive with all the turnkey features you need for a comfortable, practical and safe construction site. We have both interior and exterior turnkey solutions available, including fire safety equipment, fence hire, furniture hire, air conditioning and accessibility add-ons such as ramps and steps, to name a few. 
Site cabins for comfort
Our construction site cabins are designed with comfort in mind. We have a wide range of single-sex and combination portable toilet blocks and welfare units to accommodate hundreds of tradespeople and site visitors. For sites without mains connections, we offer portable toilet units with effluent tanks and a regular tank-emptying service. We're also on hand to top up your consumables regularly, including hand sanitiser, as part of the temporary site accommodation hire service. Plus, we provide high-quality eating and washing facilities, complete with white goods such as microwaves, toasters, washing machines, dryers and dehumidifiers.
Welfare units
At Algeco, we offer a wide range of welfare units suitable for any number of employees, from very few to workforces in the thousands. From kitchens and canteens to changing spaces, toilet blocks and smoking shelters, we can create a solution unique to your site and project.
For sites that don't have access to utilities like electricity, water or drainage services, the self-contained Oasis welfare units from Advanté (part of the Modulaire Group) provide high-quality facilities as standard, with office and/or canteen facilities, a 24/7 drying room and toilets, with showers available on request.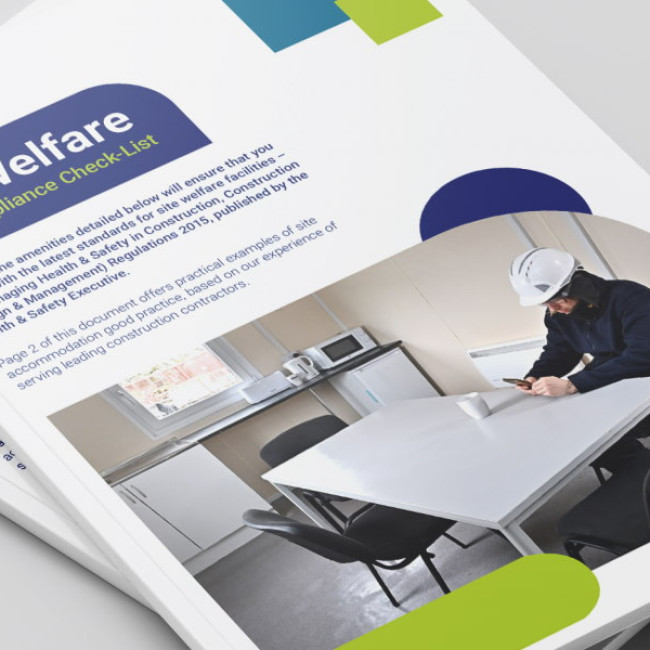 CDM Compliance Checklist
Use our CDM compliance checklist to make sure you comply with the latest standards for site welfare facilities – the Managing Health & Safety in Construction, Construction (Design & Management) Regulations 2015, published by the Health & Safety Executive.
Or, even easier, simply talk to us about your project and we'll advise you on what you need to remain CDM-compliant.
Learn more
Layouts
Here are just a few ideas of layouts for different types of portable building solutions.
Browse our resources
From case studies and frequently asked questions to downloadable information and brochures, we're to help you to give any information you need about our products and services. If you can't find the answer here, get in touch.