Site Accommodation Hire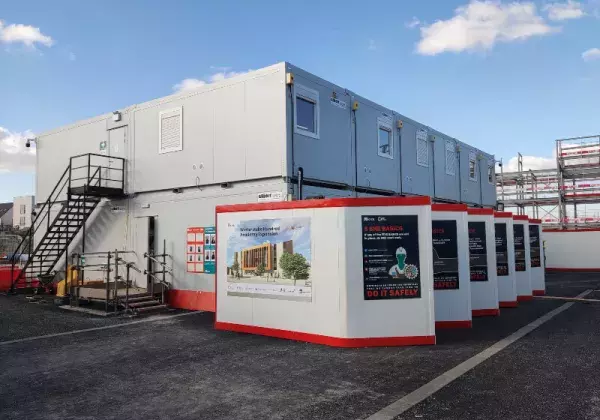 Hire site accommodation from the market leaders
Algeco is the market leader in site accommodation hire. We understand the needs and challenges of life on-site and offer a wide range of site accommodation units, alongside interior and exterior turnkey solutions.
Top-Rated Site Cabins for Hire
Our construction site cabins are available in a wide range of sizes and specifications to suit any need.

With our turnkey solutions, you can hire site cabins with everything you need, for as long as you need them. We can deliver just the basics through to linked or stacked temporary site accommodation villages.

We have standard layouts as ready-for-rent site accommodation units on our hire fleet with the most popular features included, so we can deliver what you need even faster.

JCoP 10.1 Compliant - since the announcement of JCoP version 10.1 in January 2023, we have invested in completing a comprehensive fire testing programme on our products. You can read more here.
Why Choose Algeco Site Accommodation?
We have gained expertise over decades that have allowed us to build relationships with most of the leading construction contractors in the UK. Whatever your need, we can help.
We are the market leader for site accommodation in the UK, and combined our global presence with local knowledge to create the highest-quality site cabin solutions.
Our delivery and installation is fast, safe and secure thanks to our innovative site accommodation designs and layouts.
Browse our range of site accommodation for hire below.
Our Temporary Site Accommodation Units
Turnkey Solutions for Site Cabins
Algeco doesn't stop at providing you with top-rated site accommodation for hire – your temporary site cabins can arrive with all the turnkey solutions you need for a comfortable, practical and safe construction site. We have both interior and exterior turnkey solutions available and can cater to a variety of needs and specifications.
Generator hire




Algeco has partnered with a leading provider of generators so you can hire all the power you need, wherever you need it, nationwide. We can cater for anything from small to very large sites, and you can choose traditional fuel-powered systems or the latest battery-powered hybrid generator sets for reducing environmental impact.


 

Furniture hire




Our range of off-the-shelf furniture packages mean we can offer you everything you'll need for whatever temporary site accommodation you have, from meeting room to canteens. At the end of the hire period, we'll take everything in one go – no hassle.
Temporary fencing hire




Our fencing options offer a secure solution to prevent damage, theft or vandalism on the site, using anti-climb construction. They are also ideal for directing vehicles, pedestrian safety and crowd control.


 

Accessibility add-ons




Algeco

steps, staircases and ramps

are designed to ensure easy and safe access to your site accommodation. Each temporary staircase features non-slip durbar treads and contrasting yellow nosings for safety, and are compliant with all relevant regulations

.


 

Sites without utilities




For sites without mains connections, we offer portable toilet units with 

effluent tanks

 and a regular tank-emptying service. We're also on hand to top up your 

consumables

 regularly as part of our temporary site accommodation hire service.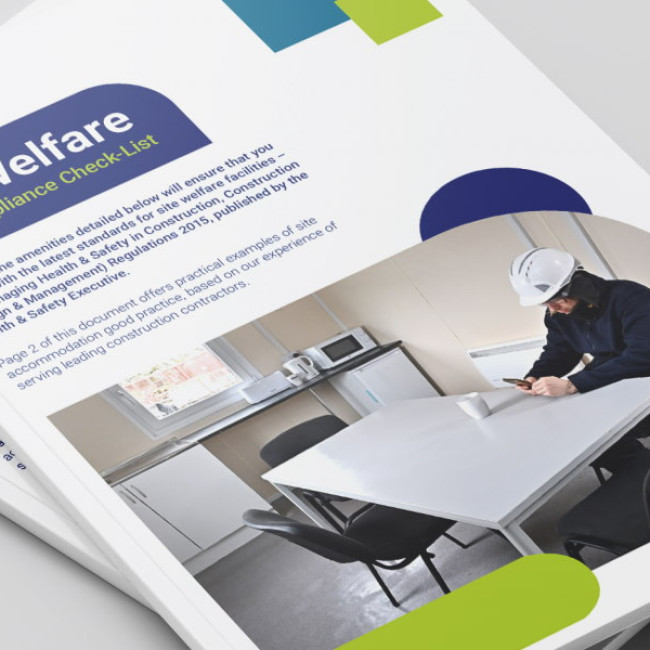 CDM Compliance Checklist
Use our CDM compliance checklist to make sure you comply with the latest standards for site welfare facilities – the Managing Health & Safety in Construction, Construction (Design & Management) Regulations 2015, published by the Health & Safety Executive.
Or, even easier, simply talk to us about your project and we'll advise you on what you need to remain CDM-compliant.
Learn more
Layouts
Here are just a few ideas of layouts for different types of portable building solutions.
Browse our resources
From case studies and frequently asked questions to downloadable information and brochures, we're to help you to give any information you need about our products and services. If you can't find the answer here, get in touch.