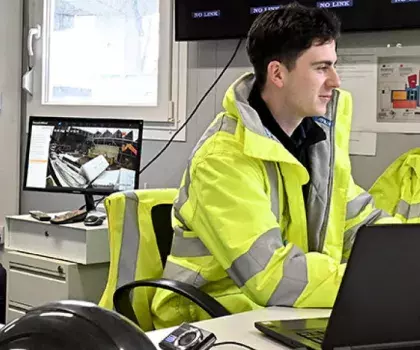 Site Offices Hire
Site Offices for Hire
Algeco offers a range of site offices to hire, which are available in various sizes and internal layouts to meet your construction site requirements. Our site offices can be easily linked together, forming a larger complex to accommodate the size of your workforce. Where ground space is limited, office cabins can be stacked one on top of the other, with access to the upper floor provided by an external steel staircase.
Site Office Solutions
Your site office is the hub of your construction site, so our experienced team will help you find the best site office to hire for your project. From budget and configurations to safety, energy-saving features and the comfort of your workforce, there's a lot to consider. As the market leader in site accommodation hire, we understand the needs and challenges of life on-site and have a wide range of site office solutions to match. 
Anti-Vandal Site Offices
Enhance your site office security with our anti-vandal cabins. With an all-steel design, integral locking system, doors with anti-jemmy edges and steel window shutters, these robust site office cabins will deter burglars, keep valuables secure and give you peace of mind. We recommend anti-vandal site offices if construction site security is your priority. We also have a range of Anti-Vandal+ office cabins should you require exceptionally high levels of security. 
Fire-Rated Site Offices
Our fire-rated office cabins are part of our Fireflex range, the UK market leader in purpose-designed fire-rated site cabin systems. Fireflex cabins offer exceptional fire-prevention performance, protecting your workforce, building and adjacent properties. Key features include opening windows with active fire curtain barriers (which automatically deploy when temperatures reach 57 degrees Celsius), and a robust, steel-built design.
Anti-Blast Site Offices
For sites where there are a risk of explosions, also known as COMAH sites, you will likely require blast-resistant buildings. Algeco provide anti-blast site offices that meet all relevant standards, so you can maximise protection without compromising the requirements of your project.
Moduflex® Site Offices
Our Moduflex® range is ideal if you need a quick installation as minimal foundations are required for safe use. Plus, Moduflex® site offices offer total comfort, with double-glazed windows, timer-controlled electric heating and economical lighting.
Monobloc Site Offices
If you only need to hire a site office cabin for a small number of people, our Monobloc buildings may be the best solution. With the same attractive internal environment as our Moduflex® range, Monobloc units are ideal for sites where ground space is limited or awkwardly-shaped.
Containex® Site Offices
Our innovative Containex® site office cabins offer an all-inclusive solution for your on-site needs, with regulation approvals, foundations, and turnkey solutions all handled by us. Available in any configuration, from a single unit to a three-storey 2,500m2 building.
Oasis Welfare Site Office Units
For a more sustainable temporary site office, consider an Oasis Welfare cabin office to hire from Advante, part of the Modulaire Group. Designed with the planet in mind, these welfare units utilise solar power and hybrid LPG technology, helping you to minimise your carbon footprint.
Turnkey Solutions for Your Site Office
All site offices are fitted with electric heating and lighting, electric power sockets and vinyl floor covering, and are delivered to your site ready for immediate use. We also offer a large variety of turnkey products which can be used internally or externally, saving you time and hassle.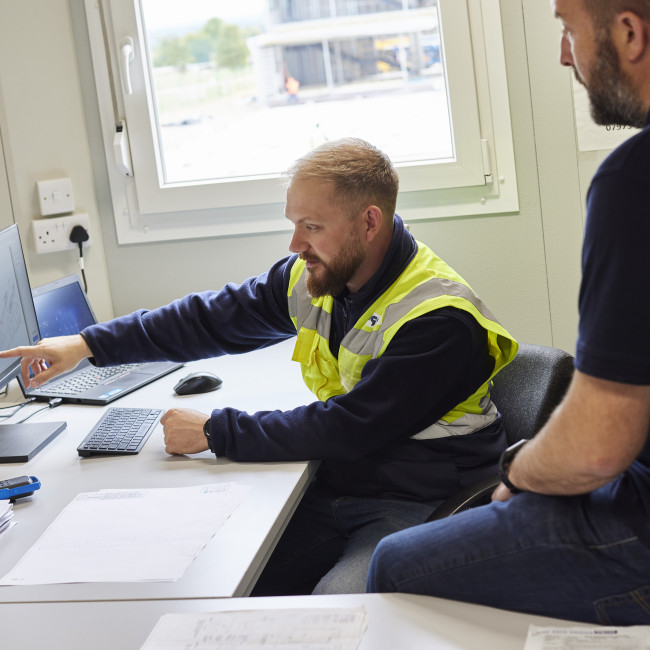 Why Hire Temporary Site Offices from Algeco? 
Largest fleet of site offices available in the UK
Unmatched fleet size and availability
Most popular site office configurations are available and ready to rent quickly
Market leaders in site accommodation solutions
60 years of experience
Efficient and safe

delivery and installation

procedure
Pioneering eco-friendly site office solutions 
Site office cabins for all needs
Interior and exterior turn-key solutions for your comfort
Nationwide service with over 22 locations throughout the UK
Enquire Now