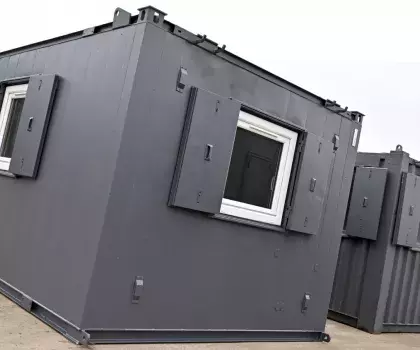 5 Reasons Why You Need an Anti-Vandal Site Office
Whether you're well versed in setting up a construction site or you're new to it, you may not know what anti-vandal units are for. We've pulled together five reasons why you should look at this type of cabin for your construction site.
What is anti-vandal?
Anti-vandal cabins are designed for unsecured construction sites or builds, so even without a perimeter, you know your site office, gatehouse, welfare buildings and site storage are protected from theft and damage.
1. Vandalism and Burglary is on the Rise
Over the past year, there were 2.1 million cases of criminal damage in the UK, with victims personally forking out just shy of £8 billion in repairs. During lockdown specifically, police were forced to carry out extra patrols to discourage opportunistic intruders from burgling empty shops, pubs and construction sites.
While construction sites are now back up and running, there's still likely to be a reduction in staff on site at any one time, and therefore there's more opportunity for vandals to break in.
2. Your Site Office is the Hub of your Construction Site
Your site office, along with other buildings such as toilets, welfare buildings and storage, is an important part of the build project as a whole. Without them, your project wouldn't run smoothly, and your workers would have no place to rest and recuperate.
If they were to be vandalised or broken into, you may lose vital documents and expensive tools, ultimately delaying your project while you fix or replace what you've lost.
3. They Give You Peace of Mind
Anti-vandal units are built to secure your buildings against theft and damage. With a strong steel wall panels that are welded to the structure, and steel window shutters and steel doors with anti-jemmy edges to resist break ins, you can feel rest assured that your site office is kept safe and sound throughout the project.
4. Flexible Layouts
Our anti-vandal units are completely flexible, allowing you to work exactly the way that you want to. They can be linked together to create office space for a larger workforce. Where ground space is limited the cabins can even be stacked one on top of the other with access via an external staircase.
Not only are our offices flexible, but we offer a whole host of other types of anti-vandal buildings too. From portable toilets and portable canteens with running hot and cold water to eco-friendly sleeper cabins, finding the right solution for the way your construction project is being run is easy.
5. They're Available Instantly
No need to wait around for units to be made or become available. Our stock means that anti-vandal cabins are available to be delivered to your site ready for immediate use. We also have a range of Anti Vandal+ cabins in stock should you require exceptionally high levels of security on site.
If you're need of tough, secure anti-vandal units for your construction site, then get in touch today.