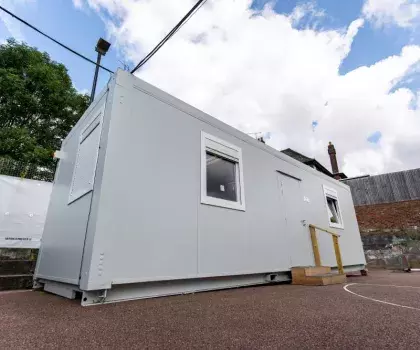 Monobloc Portable Building Solutions
The market-leading portable building for customers wanting premium quality in smaller spaces
Algeco Monobloc is the optimal portable building solution for creating quality working environments for small numbers of people. Plus, if your site conditions dictate that conventional modular building layouts aren't possible and unusual configurations are needed, Monobloc units are the perfect choice. Rest assured that Monobloc offers the same attractive internal environment as Moduflex®, in single units.
Contact our modular building experts today to learn more about how Monobloc can work for your project.
Why choose Monobloc units?
 Portable Monobloc units feature all-steel external and internal construction, which is robust, easy to clean and comfortable to work in, providing a quality feel inside and out.
 
 

At 2.5m metres tall, Monobloc has a higher internal ceiling height than most equivalent products, creating a bright and airy environment filled with natural light.


 
 Individual Monobloc units can be linked and stacked (2-storeys) to form larger complexes, especially where ground area is at a premium or site shapes are awkward.
 
 Algeco Monobloc portable cabins can be delivered and installed rapidly for minimal disruption.
 
 Internally-operated integral window roller shutters promote a more secure and private environment, day and night.
 
 Double-glazed windows, equivalent to 'A'-rated energy performance, improve thermal and acoustic insulation. They also reduce heat loss and cold drafts to create a warm, comfortable environment.
 
 Time-controlled heating and instantaneous water heaters reduce energy consumption without compromising warmth and comfort.
 
 LED lights are fitted as standard, with PIR sensors to automatically switch off when spaces are not in use, minimising energy consumption.
 
 Monobloc is a sustainable choice, made using responsibly sourced recycled PVC-U and recyclable timber from certified/managed forests.
Dimensions & Weights
Monobloc is available in two sizes. (Note: Weights are of single, empty open-plan units.)
6m long x 3m wide x 2.5m high (20ft x 10ft x 8.2ft)
Floor Area: 73m² (240ft²)
Weight = 2500kg
Internal ceiling height: 2.5m (8.2ft)
9m long x 3m wide x 2.5m high (30ft x 10ft x 8.2ft)
Floor Area: 97.5m² (320ft²)
Weight: 3200kg
Internal ceiling height: 2.5m² (8.2ft²)
360° Services with Monobloc
Our Monobloc units can come equipped with a range of turnkey solutions so you can create a functional space for your needs and start using your portable building straight away.