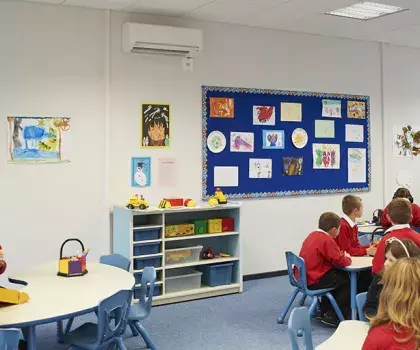 Temporary Classrooms and Nurseries
Modular classrooms and nurseries for better learning
Our temporary classrooms and nurseries create high-quality, comfortable and inspiring learning environments that enable students of all ages to thrive. The versatility in design, size and style of modular buildings can enhance academic success, and we work closely with clients to create spaces that prioritise student wellbeing and learning. Modular classrooms are also particularly beneficial for relieving the pressure of growing student numbers, whether you need a short-, medium- or long-term accommodation solution.
A rapid solution to changing needs
With the secondary school population forecast by the Government to increase by an extra 207,000 pupils by 2026*, the pressure on space is clear. Algeco has fast, simple and affordable modular building solutions based on our experience of supplying thousands of modular classrooms across the UK. From a single temporary modular classroom to a portable classroom block or even a whole school, we're here to help.
Please get in touch to learn more about how our temporary classrooms and portable buildings for schools and nurseries can work for your project.
*Source: gov.uk July 2020 
Temporary Classroom Solutions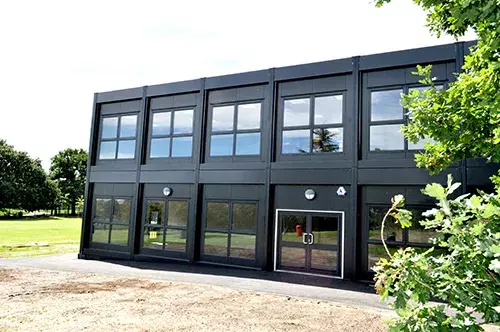 Who choose Algeco modular classrooms?
Complete flexibility -

Our learning accommodation can be tailored to your needs, including flexible hire contract terms to spread the costs.


 

Versatile configurations –

Modular and portable classrooms are available in a whole range of configurations, offering light and airy teaching spaces, with modules stackable up to four storeys high. If your needs change over time, it's easy to add or remove units or to reconfigure your space.


 

Compliant -

All of our temporary classrooms are fully compliant with building regulations and Department of Education specifications. With decades of experience, our expert team will help you understand the regulations and specifications you need to follow.


 

360° turnkey features –

Algeco can deliver fully operational portable classrooms and educational spaces with our

turnkey solutions

. From functional

furniture hire

and

access ramps

to

sustainable

climate control products

, including aircon, we can take care of everything you need for your temporary classroom so it's ready to use immediately.


 

Safety features –

The safety of your students is paramount, so we can equip your building with a range of safety features for students including finger guards for doors, heaters with a low surface temperature, CCTV, controlled access, taps with blending valves and more.


 

For all age groups -

Algeco's

education solutions

include portable nursery buildings and crèches for pre-school age groups. Our portable nursery buildings are configured to meet the spatial needs of the seven areas of learning and development for young children, so there's no need to compromise on the learning environment, even if it's temporary.


 

For all types of learning –

Your temporary classroom is completely bespoke to your needs, and this includes the type of learning space required. Algeco can supply classrooms to accommodate the unique needs of specific subjects, such as drama, music, science or ICT. 


 

Minimal disruption to learning –

With off-site construction and swift

delivery and installation

, your students and teachers will face minimal disruption to education. Expect fewer delivery vehicles, fewer vehicle movements and a quieter, safer installation process compared with traditional construction methods.
Approved supplier of education frameworks
We're an approved supplier to the Department for Education MMC1 Offsite Schools Framework, Fusion 21, MOD A (Primary Schools) and MOD C (Secondary Schools) frameworks. You can hire our temporary classrooms and nurseries for as long as you need them, so they're ideal for managing peaks in pupil numbers or as a stop-gap while new facilities are constructed. And when you've finished with your portable classrooms, we'll simply take them away.