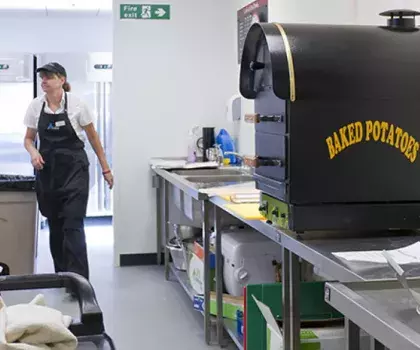 Temporary Commercial Kitchen & Catering Equipment Hire
Temporary kitchens and commercial catering equipment hire? Now you're cooking!
Using the latest design and technology, our commercial kitchen equipment and catering units offer you maximum versatility. Simply talk to us about how you want to use your kitchen, and we'll configure the perfect hire solution, including all the kitchen service equipment you need. We offer a bespoke design service and your own dedicated Project Manager from design to installation. 
High standards as standard
All our portable and temporary kitchens are designed and manufactured according to current standards and conform to the latest Health and Safety regulations. Both electric and gas appliances are available to hire to suit your site requirements. In addition, all temporary kitchen units are equipped with food-safe walls and ceilings and come with slip-resistant vinyl flooring.
Versatile Moduflex® solutions
Our Moduflex® portable kitchen is popular across a range of sectors, including education, security, healthcare, defence, and construction. The unique modular design means Moduflex® is available either as a single standalone unit or can be easily connected to other Moduflex® units to create larger commercial kitchens if needed.
Temporary kitchen solutions from Algeco:
  Production and preparation kitchens
  Dishwashing units
  Portable cold rooms
  Temporary dry stores
  Dining/office facilities
All kinds of kitchens for all kinds of places:
  Temporary kitchen facilities
  Construction site catering
  Decant catering facilities during refurbishment
  Emergency planning
  Contingency because of fire or flood
If temporary kitchens and commercial catering equipment hire sounds like something that could benefit your site, please get in touch to discuss how we can create a bespoke solution for your project.