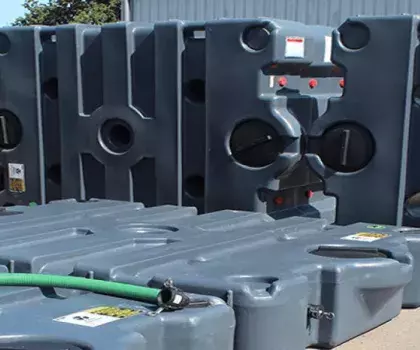 Effluent Tank Hire & Servicing
Effluent tank hire and servicing 
When there's no mains drainage available on-site, effluent tanks are ideal for use with Algeco portable toilets. Each tank is robust, lightweight, hygienic and corrosion-resistant. 
We offer a full regular tank-emptying service tailored to meet your needs. With our own fleet of tankers and drivers, we can service all Algeco mains-free portable toilets, as well as other brands. 
Efficient, effective, affordable 
  Easily transportable and movable on-site 
  Convenient lifting eyes
  500-gallon (2273 litres) holding capacity 
  More hygienic than steel 
  Sealable entry ports to prevent malodour and spillage 
  Easily linkable to create a double-capacity tank 
  Fitted with full-tank sensor and alarm
A sensor sounds an alarm when the effluent tank is nearing capacity (500 gallons/2273 litres), with tanks capable of being linked together to increase capacity. Waste-holding effluent storage tanks of up to 2000 gallons (9092 litres) capacity are also available. 
If you have any questions about our effluent tank hire service and how it can work for your site, please get in touch. Alternatively, please feel free to browse our range of interior and exterior turnkey hire solutions for temporary and portable buildings.