Portable Buildings Hire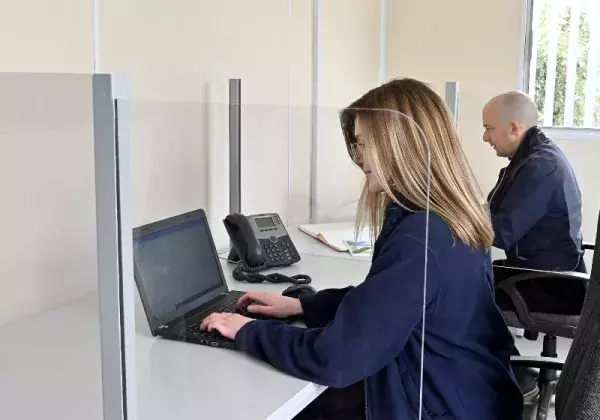 Portable building and cabin hire

solutions
Get portable buildings as a comfortable, practical and safe solution for your site. As a leading supplier, we can deliver and install portable buildings anywhere in the UK, reaching you quickly with our nationwide fleet. From vandal-deterrent units to portable toilets and storage containers, Algeco has a whole range of portable buildings available. Whatever you need, we're here to help.
Fully flexible

portable cabin hire
Renting a portable cabin doesn't mean losing out on customisation. Our mobile cabins can be stacked and linked to form larger complexes, which is ideal when site space is tight. Plus, all our portable cabins for hire are available with our full range of external and internal facilities for a hassle-free, turnkey solution. Our services include:
Get a quote or get in touch with one of our experts today.
What is a

portable building

?
Portable buildings can also be referred to as prefabricated buildings, modular buildings or portable cabins. However, portable cabins tend to be referenced as smaller versions of portable buildings.
There are several uses for portable buildings, from security cabins to offices, toilets and storage.
What are the benefits of a

portable building or cabin

?
A key benefit of portable buildings is the range of shapes and sizes they come in. This allows businesses to consider their preferences when inquiring about a prefabricated building, whether it's a toilet block or temporary portable accommodation.
Portable buildings can be constructed in significantly less time than a conventional brick or concrete structure. The structure is manufactured in a factory setting before being assembled off-site. They can be a cost-effective solution if you need to cater for a temporarily busy period. And because they're built to be moveable, you have more leeway if you want to reposition them.
Portable Building Types
Anti-Vandal Portable Canteen Hire
Each Algeco Anti-Vandal Canteen is provided with a kitchen sink, hot and cold running water, and a worktop to ensure your workforce has the necessary facilities during work breaks.
Anti-Vandal Unit Hire
Constructed to a highly durable all-steel design, our anti-vandal portable cabins come with an integral locking system, steel window shutters and doors with anti-jemmy edges, forming a robust structure that will deter even the most determined of vandals.
Blast-Resistant

Portable Buildings

Hire
Algeco is the market leader in blast-resistant portable buildings that are designed for use wherever there's a risk of explosions. Known as COMAH sites, these locations need a risk assessment and suitable protection in place. Our range of blast-resistant portable buildings provides protection that meets all relevant standards. 
View the blast-resistant range
Monobloc

Portable Building

Solutions
Algeco Monobloc is the optimal portable building solution for creating quality working environments for small numbers of people. Plus, Monobloc units are a great choice if your site conditions mean that conventional modular and portable building layouts aren't possible and unusual configurations are needed.
Portable Security Gatehouse Hire
Anti-vandal portable security gatehouses provide the ideal solutions for assisting people and vehicle movements on your site. They occupy a minimal footprint and can be used for a wide variety of applications such as ticket offices, toll booths, weighbridge offices, and checking-in offices. 
Portable Toilet and Shower Block Hire
Our toilet and shower blocks for hire come in a variety of options including male-only, female-only or combination units. On top of this, you can get toilet-only or toilet, shower and changing room combinations. The portable toilet blocks can accommodate 20 to over 200 people.
More about toilet and shower blocks
Secure

Storage Cabin

Hire
Secure, anti-vandal storage cabin hire is a fast, easy and convenient way to boost your on-site storage capacity. Whether you need on-site storage containers for three weeks or three years, we can deliver the right container for your needs to your site within a few days. 
Comfortable and efficient

portable cabins
Our portable buildings for hire will help you save energy without sacrificing comfort. Light, airy interiors offer productive working environments that are comfortable for users and easy to maintain.
You can also benefit from energy-efficient features like high-quality LED lighting with movement-sensitive PIR sensors. Meanwhile, electric heaters with timers maintain a comfortable temperature and double-glazed PVC-U windows with integral shutters help prevent heat loss while enhancing security and privacy in your portable building. 
Range of portable building options
We offer a variety of portable buildings and cabins for rent. As well as workspaces, you can choose from storage containers, anti-blast buildings, security gatehouses and portable toilets. Whether you're a new or existing customer, please get in touch with our team of experts to see how we can bring your portable modular building project to life.
Portable

 building uses
Portable

office

buildings
Portable office cabins are an excellent solution for any business seeking a modern, cost-effective and practical workspace. Our portable buildings can be rapidly delivered and installed, helping you achieve a quicker return on investment.
Make use of our climate control products for enhanced sustainability and take comfort in the knowledge that portable buildings are more eco-friendly to construct than traditional buildings.
Portable classrooms
Get high-quality, specialist portable cabins to be used as classrooms. From nurseries to universities, our portable buildings can be easily adapted to the specific needs of teachers and students.
Whether you need a singular classroom or want to stack and link multiple cabins for a larger educational complex, the possibilities are endless. With a quick turnaround and off-site construction, teachers and students can expect minimal disruption. 
Used

portable buildings
We regularly have used portable buildings and used modular buildings for hire. This may be the best solution for you if you have a more immediate need or a restricted budget.
Used portable buildings still undergo the same, comprehensive quality tests and will be re-conditioned if needed. For the latest information, please contact our sales team today.
Other industries that can use

portable cabins
We can offer specialist portable buildings for a vast range of other needs and sectors. These include:
Portable cabins to hire or buy
For hire
Our custom-made portable cabins are available to hire for however long you need them. If you have to alter your space, we'll deliver and install your portable buildings quickly.
Likewise, we'll rapidly remove them when they are no longer of use to you. Renting portable buildings from Algeco is a cost-effective, straightforward solution to make your project easier.
To buy
Our portable buildings to buy are built to last and are ideal if you're looking for a longer-term solution.
Portable cabins can be bespoke, no matter what sector you operate in. You can always hire or buy additional portable cabins which can be easily stacked or lined, giving you flexibility. 
Why

hire

your

portable buildings

from Algeco?
We're a reputable portable building manufacturer with a global presence and we've helped thousands of customers in the UK alone. Choose from temporary or permanent solutions catered to your business needs.
We also have a strong sustainability agenda, which means you can save energy and money when you rent our portable buildings and cabins. Take a look at our case studies to find out more about how our modular buildings could facilitate your next project.
Get a

portable buildings

quote today
Looking for permanent or temporary portable building solutions? Simply get in touch and we'll help you establish the best fit for your needs. Complete our online form or give us a call on 0808 108 2222.
Portable cabin

FAQs
How do you install a

portable building

?
The portable building installation process with Algeco couldn't be simpler. We have an extensive nationwide fleet to get your portable cabins to you as efficiently as possible.
Once the site is ready, our experienced team will install your building securely. The nature of portable cabins means that, typically, no on-site assembly is required; this is all done prior and off-site with stringent quality control. If your portable building is equipped with turnkey solutions, these will all be fitted and ready to use instantly.
If you have requested multiple portable cabins, they may need stacking or linking together on-site. Overall, we will take care of the installation process in a safe, efficient and streamlined manner, with minimal disruption to you and your business. 
Do you need planning permission for

portable buildings

?
In most cases, you do need planning permission for a portable building if you are hiring it for more than 28 days or if its surface area will be greater than 100m².
When should I apply for a

portable building

planning application?
Typically, planning applications can take up to 12 weeks to be processed, with input from your Local Planning Authority (LPA). You should also factor in the possibility of revisiting your application if it becomes rejected. Our team is experienced in assisting clients with applications and liaising with LPAs.
Browse our resources
You should be able to find any information you need via our FAQs, brochures and case studies. But if there's something specific you'd like to ask, feel free to get in touch.
FAQs
Got a question about our portable buildings for hire? You could find the answer here. Take a look at our FAQs.
Download a Brochure
Get all the latest info about Algeco in one handy document. It's easy to download and share.
Case studies
See how we've created efficient and effective accommodation solutions for our customers.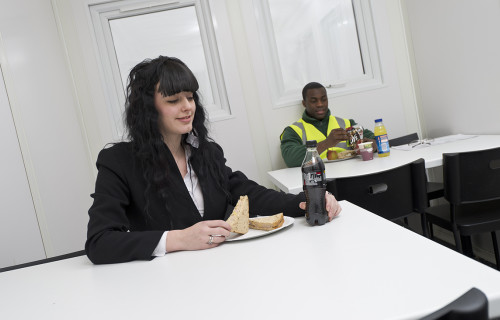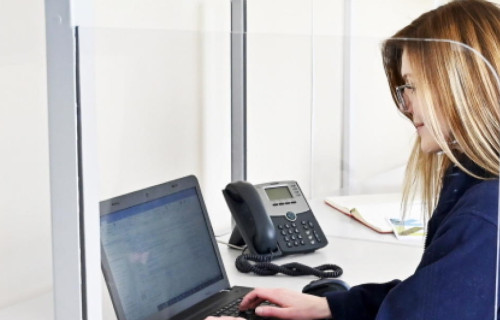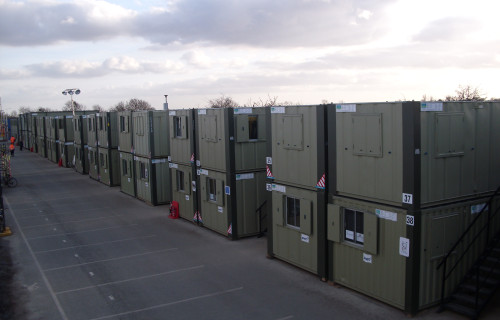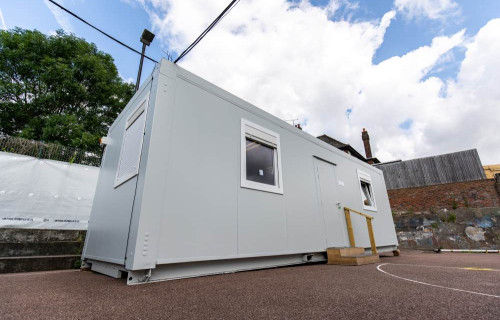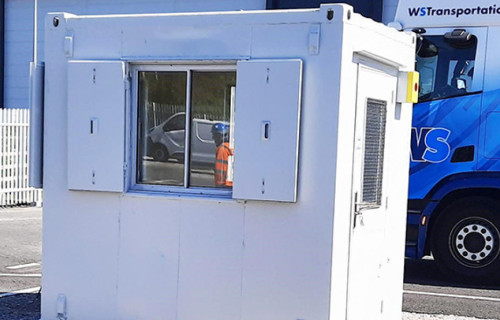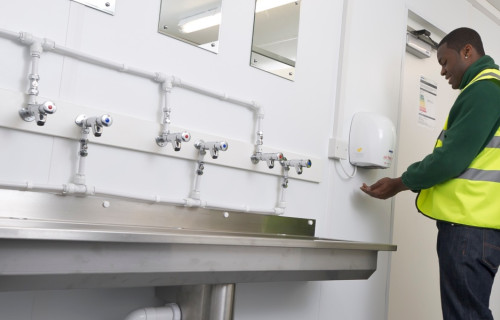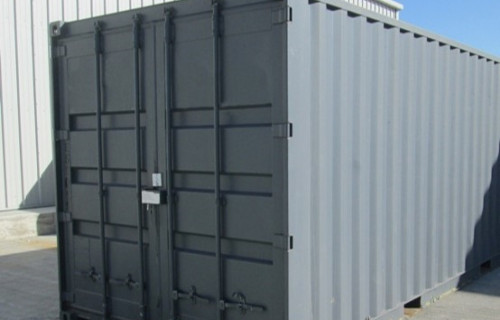 Browse our resources
From case studies and frequently asked questions to downloadable information and brochures, we're to help you to give any information you need about our products and services. If you can't find the answer here, get in touch.