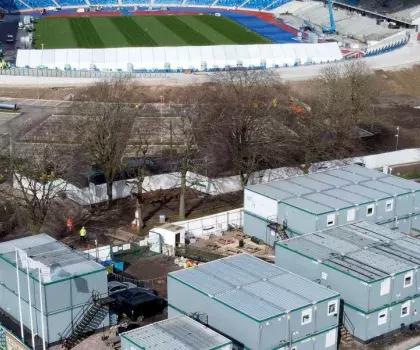 Do Portable Buildings Need Planning Permission?
In most cases, you will need planning permission before installing a portable building on your site. Portable building planning permission is necessary if you are hiring the building for more than 28 days or if its surface area is greater than 100 m2. 
Working out whether or not your portable building will require planning permission (and applying for that position where relevant) is a key step in managing the construction process and ensuring that the project runs smoothly.
When do portable buildings not need planning permission?
You do not need to apply for planning permission if your portable building has a surface area that's smaller than 100 m2 and if you are only using it for 28 days or less.
There are also exceptions if you are using the portable cabin as an extension to an existing building. You may not need planning permission if: 
the portable building is shorter in height compared with the original building; 

the structure of the portable building is less than 25% of the original building's volume; and, 

the portable building is directly relevant to the purpose of the original structure. 
When should I apply for a portable building planning application? 
Planning applications can take up to 12 weeks to be processed and concluded. You may also need to revise your application if it is rejected by your Local Planning Authority (LPA). With this in mind, we always advise applying for portacabin planning permission as early as possible. 
At Algeco, we have years of experience helping clients with their applications and liaising with LPAs. As a result, we're well-versed in what makes a successful application, which can help to speed up the approval process, and we can manage the application process for you.  
What happens if I need a portable cabin installed urgently? 
In some instances, you may need to rent a portable cabin on an urgent basis. If you find yourself in this situation, you should be able to apply for planning permission retrospectively. In general, your LPA should grant this for you after you've installed the building, if you can demonstrate the need was genuinely urgent and essential. 
If the LPA denies your request, you will be handed an enforcement notice asking you to reinstate the site and remove the portable building. You have the right to appeal this request. However, if the Authority sticks with their decision against your build, then you must comply with the enforcement notice or risk prosecution. 
How do I apply for portable building planning permission?
Step 1 – Contact your Local Planning Authority
You may want to have a conversation with an LPA official before starting your planning permission application. This gives you the opportunity to ask them questions and will help you understand your chances of success with your application.
Find your Local Planning Authority here. 
Step 2 – Pre-planning application
In some cases, you may be able to apply for a pre-planning application. These typically take two to three weeks to be reviewed and returned to you. It gives you an even stronger indication of whether your application will be approved and if there are any issues you may need to address first. However, these do incur costs which typically vary depending on your LPA and the scope of work you want to undertake.
Step 3 – Prepare your documents for submission
There are a number of documents you need to prepare and submit with your portable building planning application:
Five copies of your application forms

Detailed and clear location plan, site plan and block plan

Elevations of current site and proposed site 

Details of the surrounding area 

Signed ownership certificates

Agriculture holdings certificate

Design and access statement
If you are working with third parties to prepare these documents, such as architects, then you need to consider the additional lead times and costs involved. 
Step 4 – Pay application fees
As part of the application, you need to pay the necessary application fees. Your LPA cannot begin processing the application until the payment has been received. In England, the fee is £462 for each 0.1 hectares (1000m2) if the site area is not more than 2.5 hectares. In Wales, this fee is £460 and in Scotland it is £600. There may be additional fees to pay depending on the type and scope of work you are planning to do. 
To sum up, portacabin planning permission is a crucial step in the majority of portable building projects. Whether you're installing a temporary portable classroom, renting a portable office space or even hiring a used building, you must confirm if planning permission is required ahead of the build. 
We hope this guide has provided you with a better understanding of how to apply for portable building planning permission. At Algeco, our team is highly experienced in supporting clients with planning applications for all types of portable and modular buildings. If you have any questions about your portable building project, please don't hesitate to contact us today.