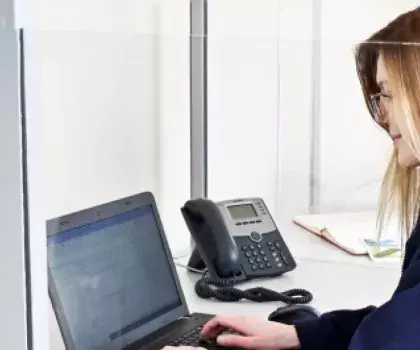 Anti-Vandal Unit Hire
Secure temporary anti-vandal cabins
Secure and solid 
Constructed to a highly durable all-steel design, Algeco anti-vandal modular buildings come with an integral locking system, steel window shutters and doors with anti-jemmy edges, forming a robust structure that will deter even the most determined of vandals. 
Tough outside, comfortable inside 
All our anti-vandal portable offices are fitted with electric heating and lighting, electric power sockets and vinyl floor covering and they are delivered to your site ready for immediate use. All anti-vandal units can be enhanced and customised by adding a vast range of other Algeco interior and exterior products. 
Versatile range of sizes 
Algeco anti-vandal portable offices are available in a range of sizes and internal layouts, from a small anti-vandal cabin for one person up to multiple units that are linked together to provide workspace for a larger team. Where ground space is limited, Algeco anti-vandal cabins can also be stacked one on top of the other with access to the upper floor provided by an external steel staircase. 
Anti-vandal + specification
If you're looking for increased performance and comfort, we now offer anti-vandal + specification buildings. Fitted with double-glazed, A-rated-equivalent energy-efficient windows made from recycled PVC-U, anti-vandal + buildings offer higher levels of thermal insulation. LED lighting and thermostatically-controlled heaters with timers further reduce energy consumption, for a more efficient and sustainable option. 
Anti-vandal unit sizes:
•        3 x 2.4m 
•        3.6m x 2.4m 
•        4.8 x 2.4m 
•        6m x 2.4m 
•        7.2m x 2.4m 
•        9.6m x 3m
If you are interested in hiring an anti-vandal cabin for your site, please contact our expert team today. Or, browse our range of portable building solutions below.