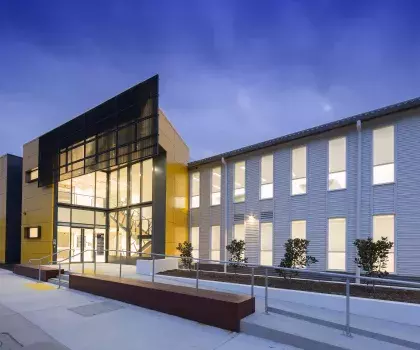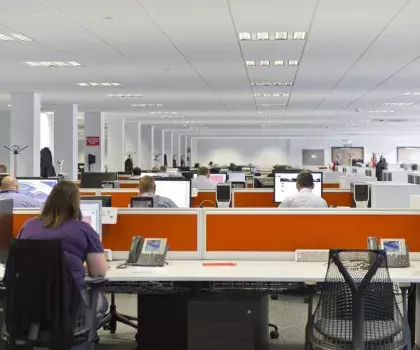 Market-leading modular buildings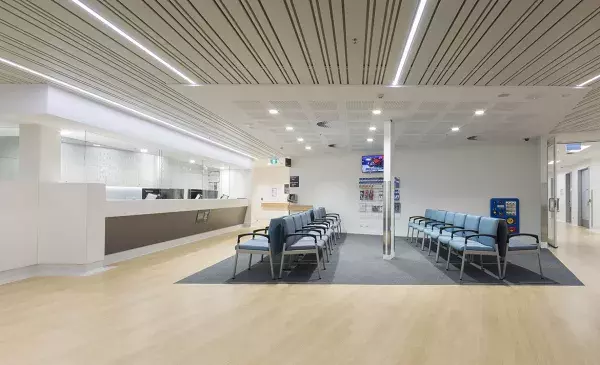 Enter a world of modular building solutions to hire or buy
Algeco (formerly known as Elliott) is a market-leading supplier of portable and modular buildings across the UK and Europe, offering your organisation the perfect space to work, learn or live. From single portable buildings to stylish and inspiring multi-storey design and build structures, our temporary and permanent modular building solutions are constructed off-site in quality-controlled environments to the highest standards before being fully fitted and delivered to your exact requirements. Our dedicated team is with you the whole way, offering advice on project management and compliance and a full interior and exterior turnkey service for each of our temporary and portable buildings.
We are part of the Modulaire Group - Europe and Asia Pacific's leading modular services and infrastructure group – which means we have unparalleled resources and expertise to create the space solution you want. From financial and time-saving benefits to improving sustainability in construction, there's a wealth of benefits to opting for modular buildings for your project.
We're on hand to make your project easier by getting you the best accommodation solution for your needs. If you're ready to discuss your modular building solution, please get in touch now or learn how to manage a modular building project with Algeco.
Benefits of Algeco temporary buildings
Choosing modular buildings for your project ensures a high-quality, dependable building suitable for various sectors. For fast, safe and flexible accommodation solutions for every site, choose Algeco temporary buildings.
From helping to deliver one of the world's largest offshore wind farms to providing research and development facilities for premium brand car manufacturers to delivering unplanned accommodation to help manage the biggest ever cemetery excavation in Britain, our temporary modular buildings can do it all:
For more information about the benefits of modular buildings, check out our blog post. To see our temporary buildings in action, take a look at our case studies.
Accommodate Everyone
Our temporary building hire solutions can accommodate from 2 to over 1,000 people, with virtually unlimited floor space across up to four storeys.
Versatile and Customisable
We can create temporary modular buildings to suit any project or need, so your solution will be individually tailored, comfortable and on-brand.
Sustainable
Modular buildings are lightweight structures with effective, efficient insulation, making them a highly environmentally-friendly option for your project.
Minimise Disruption
With most of the process of creating a modular building solution taking place off-site, existing structures (such as hospitals or schools) can continue to work with minimal noise, mess or pollution disruption.
Benefits of Algeco Off-Site Solutions permanent buildings
Algeco Off-Site Solutions structures use a specialist frame construction or volumetric modules, depending on the size of the building and how much you want to customise both the exterior and interior design. Our permanent modular buildings are built to stand the test of time. Each building can be designed bespoke to the needs of your project, with various exterior improvements possible if you're after a more modern or traditional look. 
Another benefit of modular buildings is that the construction process significantly reduces material waste and has a smaller impact on the environment compared to traditional construction methods. Portable building manufacture can happen at the same time as on-site preparations, reducing the overall build time and minimising downtime on your site.
Specialist expertise
Our in-house teams of designers, engineers and project managers can advise on optimising building solutions for your needs.
Collaborative approach
From initial consultation and design, we'll work closely with you and your partners to ensure the final product is exactly what you're looking for.
Bespoke Design
We'll design your permanent modular building to suit your specific needs so that the solution will be on-brand, functional and unique.
Off-Site Production
As our modular buildings are created in a controlled factory environment, we can guarantee their quality and design whilst also minimising materials wastage.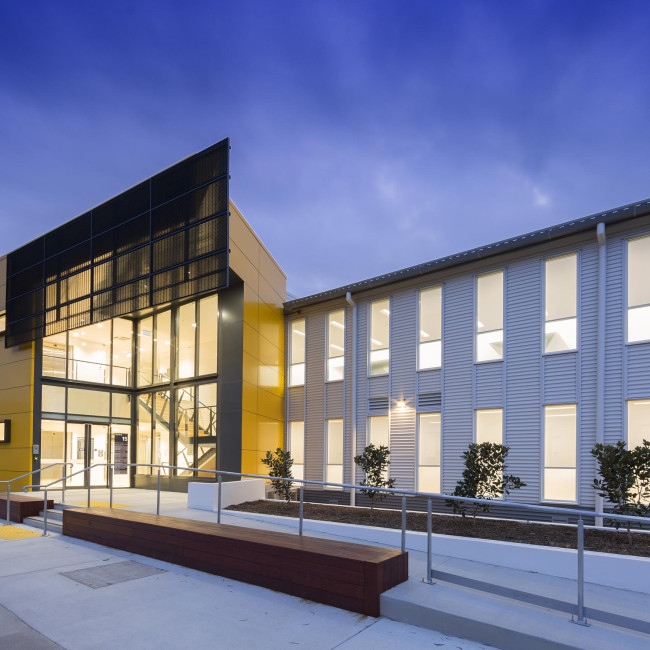 Why Choose Modular?
From a quicker return on investment to more sustainable building practices, it's no surprise that more and more businesses are choosing to build modular.
With over 60 years of experience, our team have put together all the resources you need to understand what modular buildings are, how they work, and why they're so great.
Learn more about Modular
Select your modular building use
Select your modular building use from portable office buildings to temporary offices for larger workforces, to modular classrooms and nurseries, or temporary hospitals and clinics, our range of temporary buildings to hire has something for every project.
Select your portable building use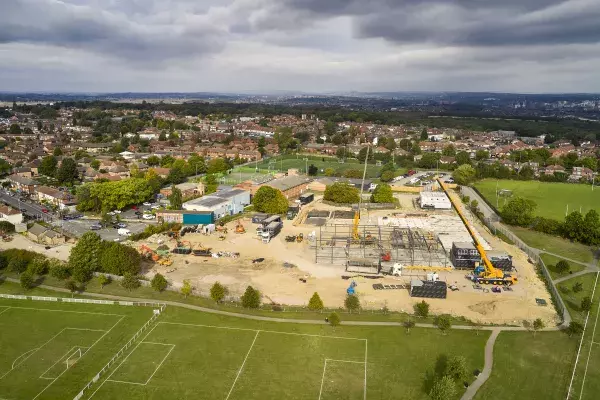 ESG and Sustainability
At Algeco, ESG and Sustainability is integrated into all aspects of our business. We know you care about the impact our buildings have on your people and the planet, both during the construction process and beyond. 
With that, we recognise our duty to leave a positive impact on the people who use our solutions, the environment, and the wider community. To achieve this, we champion our Environmental, Social, Governance and Sustainability (ESGS) strategy goals in all the work that we do.
To keep up-to-date with our ESGS advancements, you can explore our website, connect with us on LinkedIn, and download our latest ESG & Sustainability report. 
Learn more
Download our latest ESG & Sustainability Report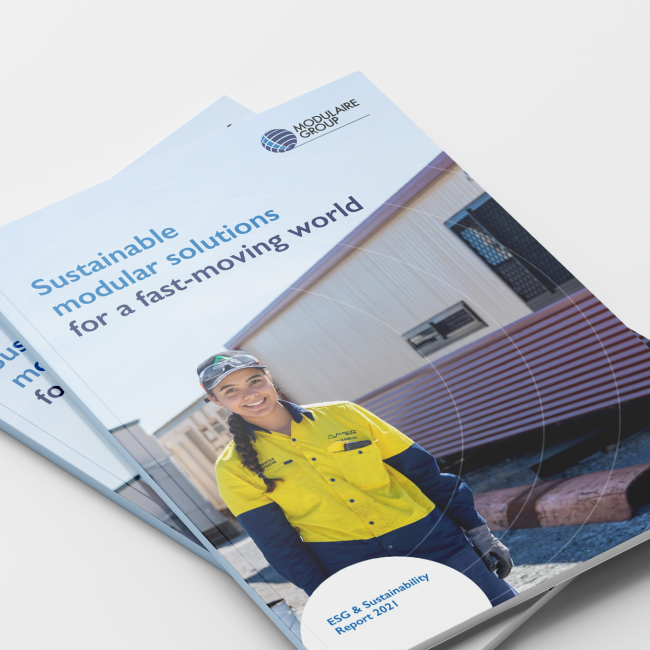 Sustainable modular solutions for a fast-moving world
Download our latest ESG & Sustainability Report
Download
Algeco UK – Strength in depth
Algeco is part of the Modulaire Group, Europe & Asia Pacific's leading business service company specialising in modular buildings and spaces. Algeco UK (previously known as Elliott Group, Carter Accommodation and Procomm Site Services) has almost 60 years' experience of providing temporary building hire solutions. 
20,000+ deliveries last year
Our huge fleet means we operate at scale and can take on the most demanding projects and customer needs. Last year we made over 20,000 deliveries, more than any other modular building provider in the UK.  
40,000+ workspace fleet
We have the largest workspace fleet in the UK, which means we also have the best product availability to service your needs. This enables us to work quickly and adapt to changing circumstances, budgets and expectations while delivering the same high-quality service, no matter what happens.
Customer
satisfaction
On time, on budget? How good are we? Ask our customers. We ask after every project how well we've done and use the Net Promoter Score system to understand satisfaction. Our latest results are scored as Excellent.
Turnkey solutions and specialist expertise
We have in-house teams of designers, engineers and project managers to advise on optimising solutions for your needs, with turn-key services to provide all the exterior and interior facilities you need for your project through one point of contact.
Best Value
Through economies of scale, our products and services balance quality with competitive prices to offer you the best value possible. We're flexible, so we find the right service package for every customer.
Nationwide Service
We have 22 locations throughout the UK, providing over 40,000 units, so we can deliver and install your portable buildings directly to your site, no matter where you are.
Case Studies
We've helped customers across a wide range of sectors to benefit from our modular buildings and services, including construction, education, health, energy, business and infrastructure among many others.
Here are just a few examples of how we've helped customers benefit from our modular buildings and services.
Browse our resources
From case studies and frequently asked questions to downloadable information and brochures, we're here to give you any information you need about our products and services. If you can't find the answer here, get in touch.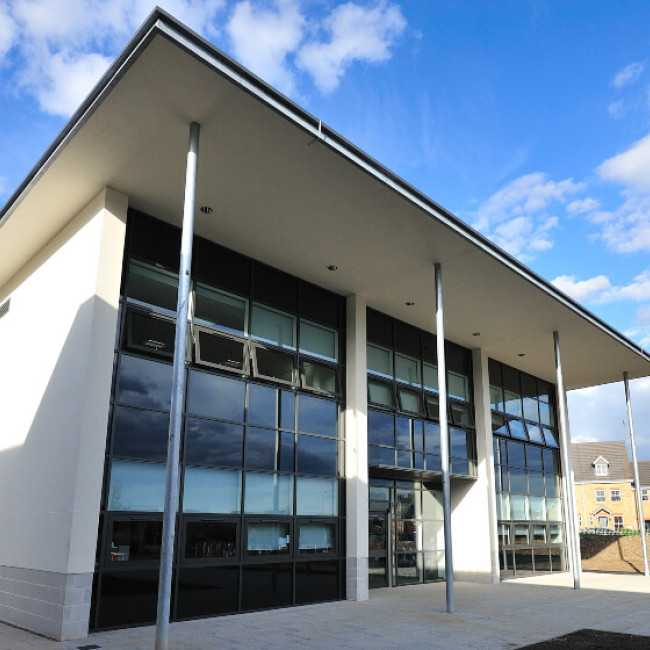 Get in touch
Please get in touch to learn more about Algeco and understand how our bespoke modular building services can work for you.
Get in touch