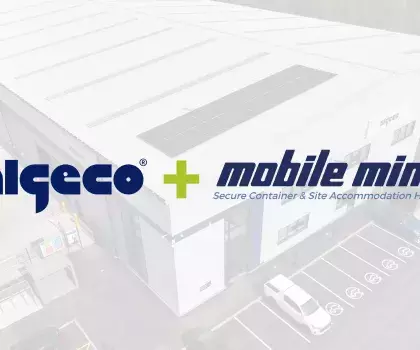 Algeco UK and Mobile Mini UK (now Algeco Storage) announce combination to position UK business for growth
Story
Algeco has today announced a transformation of its UK business that will deliver greater value for customers and achieve its vision of being the leader in temporary accommodation and storage.
Bringing together Algeco UK Ltd and Mobile Mini UK Ltd into a single entity under the Algeco brand has been the catalyst for the change.
A leadership team has been formed to steer the process that combines the considerable expertise and market knowledge of the combined businesses. Extensive analysis of the Algeco organisations over the last few months has created strong foundations on which to set out the strategic options available.
A key focus has been on identifying how the combined Algeco business can work in the best way to serve customers and achieve its vision of being known for world-class safety and performance. Our Advanté and Algeco Offsite Solutions businesses are not part of the process.
A  core driver of the change is building strong relationships with hire customers that will help Algeco win in both local and regional markets. It will cover all aspects of the business, including regional administrative and site operations, with a view to making them more responsive and better aligned to business and customer needs.
The first output of the review is the proposed closure of the Algeco Peterborough office, with a single Support Centre being our facility in Stockton on Tees.
Keith Dorling, UK Managing Director, said: "We are executing a transformational change to position Algeco for long-term growth. As part of this effort, the leadership team is evaluating a range of options for our combined businesses. Algeco in the UK is well-placed for long-term growth, and we are assessing how the combined businesses can unlock value for customers."
Keith added: "Bringing together several successful organisations has presented the need and opportunity to really identify what structure we believe will enable Algeco and our people to thrive. We have undertaken an extensive analysis of our organisations over the last few months to better understand how we can leverage our customer proposition."
It is expected that the change will be completed by Quarter 2 next year.
Modulaire Group is a leading provider of modular services and infrastructure, offering flexible, cost-effective, high-quality and timely solutions to help customers in a variety of end-markets
efficiently meet their needs for space and remote accommodation.
The Group operates under the Algeco brand across the UK and Europe, where it is one of the longest established brands in the modular and offsite construction industry.
Algeco and the Modulaire Group employ more than 4,400 people working across 22 countries.
Algeco and parent company Modulaire Group are owned by Brookfield Corporation, a leading global alternative asset manager.