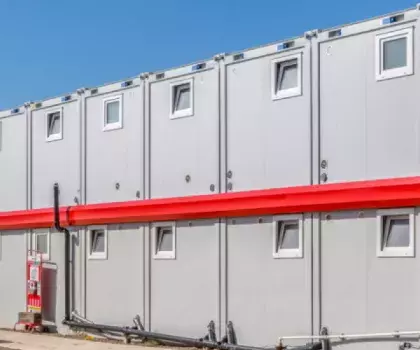 Containex® Cabin Hire
Containex® cabin hire services
The innovative Containex® system can rapidly provide temporary accommodation for everything from classrooms and nurseries to training rooms, offices, wellbeing centres and more. As well as offering flexible layout options, with modules capable of being joined side to side or end to end, Containex® cabins are available in any configuration from a single unit to a three-storey 2,5000m2 building.
Our Containex® containers
Comprehensive turn-key service
We take care of everything, including planning and building regulations approvals, foundations, generator hire, furniture, air-conditioning and everything else you may need in your Containex® buildings.
All-inclusive design
Containex® can provide all facilities you need in a single open-plan design, including offices, toilets and showers, canteens, changing rooms, and meeting rooms. There's even a range of window options, including floor-to-ceiling glazing and balconies – all complete with integral window shutters for enhanced security and privacy.
Versatile layout
All side panels can be fully removed and re-installed when needed for total flexibility where the configuration needs to be adjusted, without compromising structural integrity. For multi-storey applications, internal staircases are also available.
Rapid assembly
CTX Containex® container modules are flat-packed and can be assembled or disassembled for easy relocation and reduced transportation costs, with up to ten modules loaded onto a single truck. This ease of transport and installation makes Containex® ideal for space-constrained sites or locations with restricted access. In addition, Containex® is available in standard and fire-rated specifications:
Standard and fire-rated performance specifications:
Standard Specification
External dimensions per module - 6mtr x 2.4mtr
Internal height - 2.34m
Internal finish - white steel
Double glazed, uPVC windows with gas-filled insulated glass, tilt & turn mechanism and lockable aluminium roller shutters
High sanitary windows with tilt mechanism
Energy-efficient lighting with movement-detecting PIR sensors
Thermostatically-controlled heaters
Electrical fan heaters to sanitary areas
Dual flush cisterns
Door closers to external doors
Fully insulated, roof, walls, floor and windows
Walls – 60mm PU
Floor - 60mm mineral wool
Roof - 100mm mineral wool
Fire-rated Specification
External and internal height - 2.8m & 2.48m
30- and 60-minute fire protection options
60-minute fire-rated roof, allowing 30 minute or 60-minute fire-rated panels to be fitted subject to clients' needs
Reinforced steel roof, floor and corner frames
4kN floor loading ground floor, up to 3kN on upper floors
Wall insulation - 110mm PIR foam
Roof insulation - 140mm PU foam
Floor insulation 100mm PU foam
Fire-protection gypsum plasterboard with coated steel sheet
Please get in touch to learn more about our Containex® accommodation or any of our other temporary building hire services.