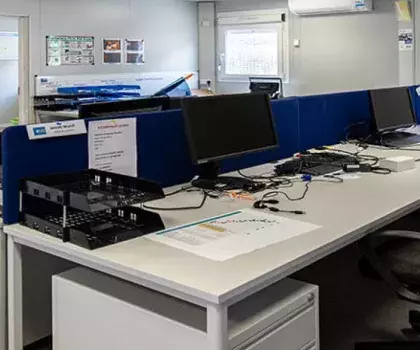 Modular Office Furniture Hire
Convenient and hassle-free off-the-shelf furniture package deals 
Our range of off-the-shelf furniture packages features the most popular products for various spaces and uses. These cover everything from workstations and meeting rooms to your conference, canteen, and drying facilities. Then, at the end of your hire period, we remove everything in one go - no hassle, no fuss.
An extensive range of options available
From your office and accommodation to your kitchen, breakout areas, and canteens – we've got a range of furniture packages for hire for any temporary modular building. 
Ready-assembled, ready to use
Our furniture is delivered inside your units, pre-assembled and ready for use from the moment your temporary building arrives on-site. You can also add or remove pieces if you need a more bespoke solution or add other items at a later date.
Maintenance-free
Remove the inconvenience of maintaining, storing, or disposing of furniture. We'll take care of the upkeep and simply take it away when you no longer need it. 
Cost-effective
Hiring frees up capital to help you reduce borrowing, improve cash flow, and manage the financial risk of your modular building project.
Quality Products
Our furniture is responsibly sourced from leading suppliers to meet your workforce's needs and stand up to heavy daily use.
Please get in touch if you have any questions regarding our furniture package deals. Whether it's modular office furniture, modular canteen furniture or any other furniture item, our team are on hand to support your request.