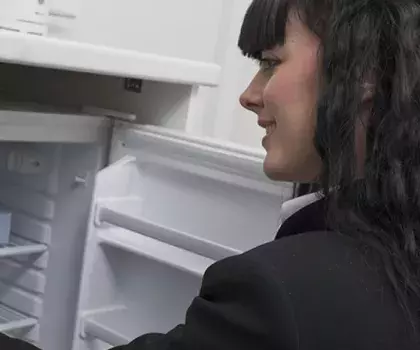 White Goods Hire
Details of our white goods hire packages
Fridges, washing machines, microwaves and more
Fancy a cuppa? You'll need at least a kettle and fridge for your milk in your break room. But, what about a dishwasher for the washing up or microwave for that lunch that needs heating up? In some workplaces, a washing machine and dryer are essential pieces of kit. 
As a white goods supplier, Algeco makes it easy to keep your staff motivated, loyal and productive with high-quality washing, cleaning and cooking facilities. We'll deliver washing machines, dryers, fridges, microwaves, kettles, toasters and even dehumidifiers, in one convenient white goods hire package with your temporary building, so you're ready to go from day one. 
Keep the shelves stocked… and clean
As well as providing the white goods you want your people to enjoy, we can provide some of the essential consumables you'll need too. For example, our Tea Break packages include tea, coffee, milk, sugar, biscuits, teaspoons and six mugs. And our Cleaning Packages come complete with toilet cleaner, anti-bacterial spray and wipes, black bin bags, washing up liquid, and sponge scourers.
Everything, including the kitchen sink!
Our white goods hire are just part of our internal 360° services that make using temporary accommodation a breeze. To understand more about how our temporary building hire services can meet the needs of your project, please get in touch.