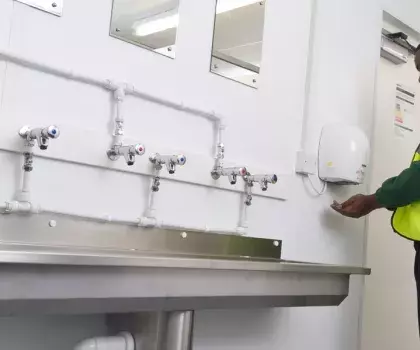 Portable Toilet and Shower Block Hire
Anti-vandal toilets and showers units
Hire steel-built portable toilet cabins for 20-200+ people 
Versatile choices available 
Algeco portable toilet cabins come in a variety of options including male-only, female-only or combination units, as well as toilet-only or toilet, shower and changing room combinations. The portable toilet blocks are able to accommodate from 20 to over 200 people. While most of our portable toilet blocks connect to mains water and power, mains-free options are also available. For sites without power, Algeco also offers generator hire and a full toilet-cleaning service, including effluent tank emptying and replacement of consumables. 
Meeting standards easily 
Good on-site hygiene and welfare facilities for clients, colleagues or customers are more than simply a legal requirement - they make good business sense. They show that you take the hygiene, health and wellbeing of your people seriously. On construction sites that are due to be working for longer than 30 days/500-person days, work can't start unless quality welfare facilities are in place, and on some sites, that means portable toilet blocks.
Specialists in toilet and welfare blocks 
Algeco specialises in steel portable toilet and shower units – we don't provide single plastic chemical toilets. You can hire our portable toilet cabins for as long as you need them, and they're perfect for new sites, growing sites or temporary decant facilities while existing buildings are refurbished. When you've finished with your temporary facilities, we'll simply take them away.
When it comes to portable toilet block hire, we're the experts. Contact our team today for more information on hiring portable toilet cabins for your site or portable buildings.