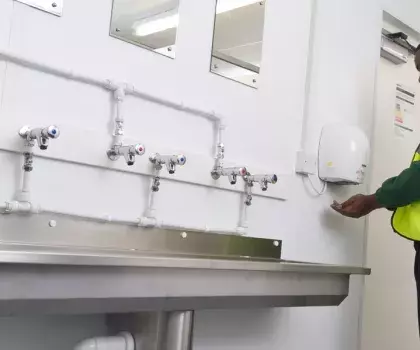 Portable Toilet and Shower Block Hire
Toilet and Shower Block Hire
Algeco has steel portable shower and toilet blocks for every temporary need. Whatever the requirements of your project and wherever you're based in the UK, we can quickly provide the right solution. You can hire our toilet and shower blocks for as long as you need them and, once you're all done, we'll simply take them away.
Good on-site hygiene and welfare facilities for clients, colleagues or customers are more than simply a legal requirement - they make good business sense. They show that you take the hygiene, health and wellbeing of your people seriously. On construction sites that are due to be working for longer than 30 days/500-person days, work can't start unless quality welfare facilities are in place, and on some sites, that means portable toilet blocks.
Portable Shower and Toilet Block Configurations
Our units can be configured by:
• Gender - We provide male-only blocks, female-only blocks and mixed-gender units, with urinals and feminine hygiene bins available.
• Type - Hire toilet blocks and shower blocks as separate units, or hire units with a combination of urinals, toilet cubicles, shower cubicles and/or changing rooms. 
• Size - Our portable toilet and shower units can accommodate from 20 to over 200 people.
 
Powering Your Portable Showers and Toilets
Most of our portable toilet and shower units connect to mains water and power. However, mains-free options are also available, meaning site toilets can still function at sites without power. If this is the case for your project, Algeco offers generator hire and a full toilet-cleaning service, including effluent tank emptying and replacement of consumables. 
 
Key Features of Our Portable Toilet and Shower Units
• Anti-vandal - All of our toilet and shower blocks are anti-vandal units for added security.
• Hardwearing - We specialise in steel portable toilet and shower units which are extremely robust. 
• Sustainable - Our units have a long lifecycle and we don't provide single plastic chemical toilets. 
• Hygienic - Our units are clean and safe-to-use. We offer a full toilet-cleaning service and replacement consumables as part of our turn-key service, including toilet seat sanitisers, waste disposal bins, hand soap and more. You can also request hand or full arm washing sinks. 
• Easy to Install - Delivery and installation of your shower and toilet blocks is swift and simple with Algeco. Even where site access is restricted and ground surface is uneven, we will be able to install your unit quickly and safely. 
• Accessible - We can provide disabled units for your accessibility requirements.
• Compliant - If you have no mains drainage on-site, then our 500-gallon effluent tanks and emptying service ensures that waste is fully disposed of in accordance with regulations. 
• Comfortable - Our toilet and shower blocks are modern, bright and comfortable, with heaters to provide warm water. 
Hire Toilet and Shower Blocks from Algeco
When it comes to portable toilet and shower block hire, we're the experts. Contact our team today for more information and to discuss the best site accommodation solutions for your needs. 
Please note: Algeco doesn't offer plastic chemical toilets, as they don't meet our standards of hygiene, cleanliness and user comfort.