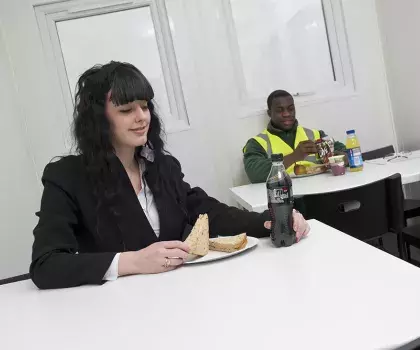 Anti-Vandal Portable Canteen Hire
A choice of canteen sizes for workforces of all sizes
Each Algeco Anti-Vandal Canteen is provided with a kitchen sink, hot and cold running water and worktop to ensure your workforce has the necessary facilities during work-breaks.
Also fitted are electric heating and lighting, electric power sockets and vinyl floor covering. Algeco Anti-Vandal Canteens can be used in conjunction with other products in the Anti-Vandal range to provide you with all the necessary facilities you need.
Delivered to your site from your local Algeco hire branch Algeco Anti-Vandal Canteens are ready for immediate use.
Portable canteen details
  Locking, steel security window shutters, steel security door with anti-jemmy edges
  Ample windows
  Vinyl flooring
  Electric heating and lighting
Anti-vandal portable canteen sizes
  3.6 x 2.4m
  4.8 x 2.4m
  6 x 2.4m
  7.2 x 2.7m
  9.6 x 3m
360° Services
From fire safety equipment and furniture to catering equipment and climate control, we have a whole range of hire solutions available. So, when you hire from Algeco, you get more than just a building. You get a fully functional space that's ready to start working straight away.
To find out more, please contact our expert customer services team and they will advise you further.