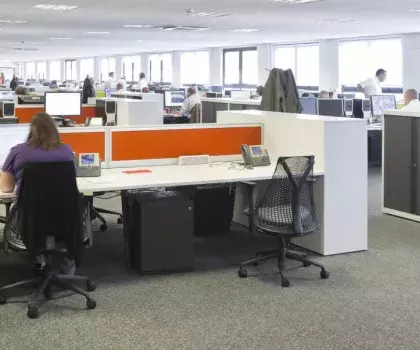 Modular Building Hire for Business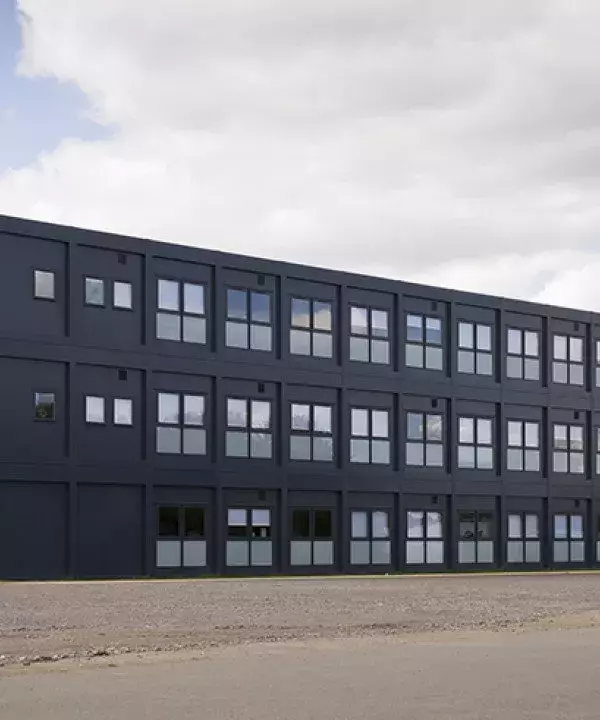 Portable office

solutions for businesses
Businesses need to be able to adapt quickly in today's ever-changing, competitive environments. Creating a comfortable workspace is key to enhanced productivity and Algeco's modular office solutions offer fully contained buildings in a range of sizes and configurations. This includes multi-storey spaces where needed.
Our turnkey services can also include a wide range of equipment, from climate control systems and furniture to fully-equipped canteens if needed.
Versatile and high-quality

modular office buildings
You can hire for either short or long-term use – and for any purpose. This includes additional capacity or temporary space while permanent facilities are built or refurbished.
Whatever the need, you'll benefit from dealing with the UK's market leader in portable and modular office buildings.
Our skilled and experienced team will help deliver your desired modular office space solution on time and on budget. Want to learn more? Please contact us or request a quote[TW1] .
What is a

temporary or prefab office

?
A prefab office refers to a portable office building constructed from pre-made pieces that are produced off-site. These components and structures can also be used to form larger modular offices or complexes.
What are the benefits of a

temporary office

?
There are a number of benefits to temporary offices or cabins. Firstly, they're a fast solution if you need to meet higher demand, which can be the case across many industries. You might be merging with another company or have plans to set up a dedicated training centre, for example.
On top of this, a prefab office can be a cost-effective solution compared to traditional office buildings, which require larger funds and a long-term commitment. That's why our portable office cabins for sale can be a great solution for any business undergoing changing circumstances. We can work with you to provide a tailored solution that addresses your business needs.
Our

portable and modular office

solutions
Algeco is the market leader in temporary office hire[TW2] , so we understand the needs and challenges of life on-site and have a wide range of solutions to match.
Portable (1-10 People)
Whether you need a small unit to house a single security guard or a small office or retail space for up to ten people, Algeco can help. Our range of portable office solutions provides secure, high-quality workspaces that can come fully equipped with all the services you need.
Modular Hire (10-1000 People)
You can request the scale, size and configuration of Algeco's modular range of portable office cabins, up to four storeys high. They come complete with heating, lighting, lavatories and other amenities you'd expect in a high-quality working environment.
Welfare
Algeco's experience in providing welfare facilities to a wide range of industries is second to none. Whether you need modular office buildings for a workforce of thousands or a much smaller number, we have the products and the expertise to provide a solution that meets your needs.
Temporary and office case studies
Read our case studies to see our temporary and permanent office buildings in action.
Greater Gabbard Offshore Wind Farm: Two temporary buildings
The Greater Gabbard Offshore Wind Farm required two temporary buildings, including fully-furnished offices.
The first was an accommodation building with everything from a welfare area to shower rooms. The second building was a highly secure, five-module temporary office with the following:
Hot desk area

Project office

Private office

Permit office

Kitchenette

Two unisex toilets
This building also had CCTV security cameras, fire alarms and Wi-Fi installed. On top of this, the project also made use of a full mechanical and electrical maintenance package throughout the hire contract to help maintain the equipment.
Liam Scott of SSE Renewables commented:
"The building is fantastic, great quality and better than we expected. It's getting a lot of attention".
Why choose Algeco for your

portable office cabins

and

buildings

?
With over half a century of experience and more than 40,000 units in our fleet, we're well-placed to help you on your temporary and mobile office journey. Our portable office cabins for sale and hire are ideal for businesses that need to adapt to a changing landscape.
We take pride in our global presence, as well as our clear sustainability principles. View our case studies to find out more about how our portable offices for sale can help you take your next step as a business.
Get a

temporary office

quote today
If you're interested in our portable office cabins for sale or hire, get in touch with our team of experts. All you need to do is complete our online form or give us a call on 0808 108 2222.
Temporary

office

FAQs
What is the minimum hire period for your

temporary office cabins

?
This will vary depending on the product you choose. Our Moduflex and Containex ranges have a minimum hire period of 26 weeks, while our modular buildings have a minimum hire period of 12 months.
Can I get furniture for my

temporary office

?
You can hire furniture for your temporary prefab office thanks to our dedicated package services. Choose ready-assembled, ready-to-use pieces so your temporary office space is equipped and ready for action.
What other portable building types do you have aside from

temporary offices

?
On top of modular and portable offices, we can provide portable classrooms, storage containers, toilets and shower blocks, and more. We also offer used portable buildings in case you want an immediate, more cost-effective option. Instead of being customised to your project, they will be already assembled.
View our full temporary and permanent offerings today.
Browse our resources
See our case studies, FAQs and brochures for more information about our products and services. And please get in touch if you have any more queries.
FAQs
Got a question about our portable office cabins? You could find the answer here. Take a look at our FAQs.
Download a brochure
Find out all the latest info about Algeco. It's quick to download and easy to share.
Case studies
See how other people have opted for efficient and effective temporary office solutions.
Our Business Solutions
Algeco is the market leader in site accommodation hire, so we understand the needs and challenges of life on site and have a wide range of solutions to match.
Browse our resources
From case studies and frequently asked questions to downloadable information and brochures, we're to help you to give any information you need about our products and services. If you can't find the answer here, get in touch.