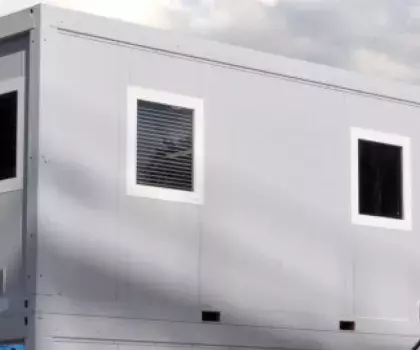 Fireflex® Fire Rated Modular Site Accommodation Hire
Fireflex® fire-rated modular buildings
Fireflex®, based on our Moduflex® open plan temporary buildings, is the market-leading purpose-designed fire-rated modular building system in the UK. The range comes with the added benefit of being fire-rated to meet the Joint Code of Practice for Fire Prevention on Construction Sites requirements.
Independently assessed for safety
Exova Warringtonfire has independently assessed Fireflex® for single, two or three-storey buildings exempt from local Building Regulations and Standards requirements.
Robust fire protection
Fireflex® has been assessed under Eurocode UK National Annexes in one, two and three-storey configurations. Each unit is built to last with a design life of 50 years and a lacquer coated steel finish with a predicted service life of up to 20 years before a first repaint is needed.
Comfortable working environment
The roofs, walls and floors in each Fireflex® building are insulated to exceed the minimum requirements stated in BS6767-1:1999 for Transportable Accommodation Units. In addition, the steel suspended floor and columns raise the finished floor level of the building clear of the ground to ensure resistance to ground moisture.
Secure windows and openings
White uPVC, top hung, fully opening windows include an integral uPVC window shutter. Plus, opening windows are fitted with an active fire curtain barrier assembly to provide a minimum of 2 hours of fire protection.
Please get in touch to learn more about our Fireflex® fire-rated accommodation or any of our other modular building hire services.