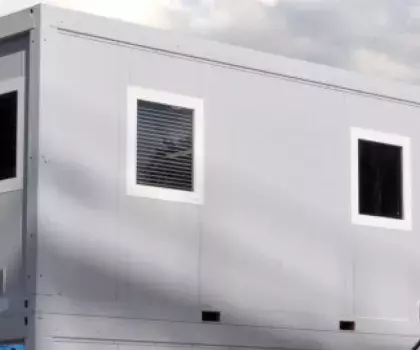 Fire Rated Site Accommodation Hire
Fast fire-rated cabin hire solutions from the market leaders 
Fireflex fire-rated site cabins 
Based on our Moduflex® open-plan temporary buildings, Fireflex is the UK market leader in purpose-designed fire-rated modular building systems. Our fire-rated site cabins are designed to meet the requirements of the Joint Code of Practice for Fire Prevention on Construction Sites. Fireflex is available with 30 minutes fire-rating or a minimum of 60 minutes (from inside to out), offering protection to building occupants and adjacent properties. Opening windows are fitted with active fire curtain barriers, which automatically deploy when temperatures reach 135 degrees Fahrenheit or 57 degrees Celsius.
In addition to exceptional fire-prevention performance, Algeco Fireflex steel-built buildings are built to resist both theft and vandalism. They have a design life of 50 years and the steel finish has a predicted service life (before first repaint) of 20 years. 
Easy, turn-key solutions
As with all Algeco portable buildings, our Fireflex fire-rated site cabins are available as full turn-key solutions with furniture hire and climate control systems for enhanced user comfort. Safe, easy and rapid access is achieved with ramps, steps and staircases. And additional fire prevention and fighting equipment can be provided, such as alarms, extinguishers and blankets, along with other occupier wellbeing supplies. 
A complete service
 Whatever you want, Algeco has everything you need. From generators and storage containers to portable toilet hire, welfare units and site offices, through to whole site accommodation villages made up of scores of linked and stacked units. And in case you aren't sure what your site needs, use our checklist. 
On-site welfare
Our wide range of single-sex and combination portable toilet blocks and welfare units can take care of hundreds of workers and site visitors. Plus, we'll top up your consumables regularly, including hand sanitiser, as part of the service. For sites without power or drain connections, we offer portable toilet units with effluent tanks and a regular tank emptying service. We can also provide canteens, including appliances, as well as washing and drying facilities. 
360° Products to choose from 
Fire Safety Equipment 
Furniture 
Hygiene Screens 
First Aid and Defibrillators 
Washroom & Hygiene Consumables 
Catering Equipment and Commercial Kitchens 
Climate Control 
White Goods 
Wifi Data 
Branding, with Gardners 
Fencing Barriers 
Storage Container Accessories 
Steps, Staircases and Ramps 
Anti-vandal Secure Storage Containers 
Jackpad Foundations 
Effluent Tanks 
Water Bowser Hire 
Generator Hire 
Temporary Smoking Shelters
Our fire-rated site cabins are available with everything you need to keep site staff comfortable and safe. To learn more, please contact our team today.