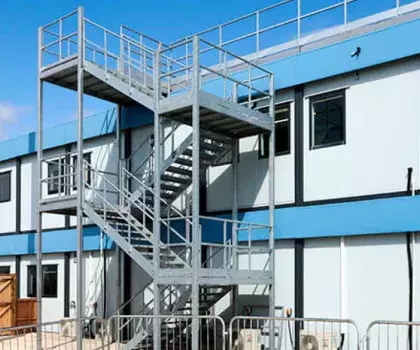 Temporary Steps, Staircases & Ramp Hire
Temporary staircase and ramp details
Providing safe and easy access for all, Algeco steps, staircases and ramps are designed for fast installation with our portable and modular buildings. 
Each temporary staircase features non-slip durbar treads and contrasting yellow nosings for safety, and are compliant with all relevant regulations. The modular construction of our metal outdoor stairs and temporary staircases means they can be installed without any fuss in various footprints and to any required height. 
Steps and Stairs 
Choose from different lengths of steps and staircases, including: 
  2- and 3-tread steps with landings for use with our anti-vandal toilets.
  13-tread staircases and landings for use with our anti-vandal units. 
  15-tread staircases and landings for use with Algeco Moduflex® and Containex® buildings. These can be extended if more modules are added, minimising downtime while the new units are installed.
  Traditional or pod-style 3-storey staircases with a 1 metre wide landing for extra safety. This enables doors to open safely without impeding people on the stairs. 
Ramps 
We can provide bespoke configurations to accommodate wheelchair access as well as access via steps with handrails and kickboards for further protection. 
Landings 
Various size landings are available to suit both standard and wider width doors. Double width landings can be used to bridge gaps between separate stacks of units. Our outdoor metal stairs with landings also have barriers to ensure safe access at any height.
Ready to start your new project? Get in touch with our expert team.