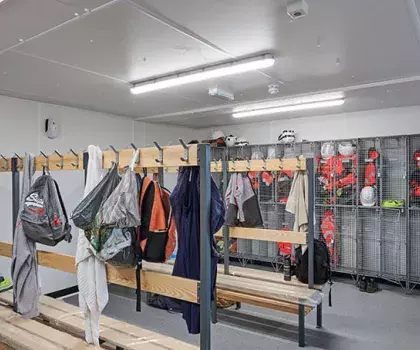 Drying Room & Dehumidifier Hire
Efficient, effective, reliable dehumidifiers for hire
On-site changing rooms require specialist drying equipment to effectively dry clothing in large, damp and steamy atmospheres. The solution is to hire dehumidifiers from Algeco. 
Dry clothes and moisture control 
Dehumidifiers remove excess moisture in the air by detecting the humidity level in the room and by keeping it within the recommended levels. In doing this, dehumidifiers combat damp, mould and mildew. 
They can also be used to help dry laundry quicker and control moisture-based damage. In addition, a moisture-controlled atmosphere can help reduce the symptoms of asthma, allergies and other respiratory health conditions. 
Hire dehumidifiers 
Our dehumidifiers for hire offer the perfect blend of quality, performance and convenience for short-term use: 
  Three clothes-drying settings at two, four or eight hours with automatic switch off 
  Drip-tray holds up to two litres of water (includes a water level indicator) 
  Maintains 40% - 60% humidity for a comfortable work environment and pest control 
  Reduces the need for heaters, saving electricity and improving sustainability
  75% more efficient than heaters alone 
  Includes an ioniser option to purify the air and counter bad odours 
  Multi-directional louvre creates linear airflow 
Dehumidifiers in action 
The local constraints of Galliford Try's site meant that the accommodation area could not be provided with a permanent mains power supply. To reduce both energy consumption and the site's carbon emissions, two low-power output industrial dehumidifier units were deployed in the drying room of the site.
At Algeco, we offer full turnkey solutions for our temporary buildings, so whatever you need, we can sort it. Want to learn more about our turnkey services and how they can work for your project? Please contact a member of our hire team today.