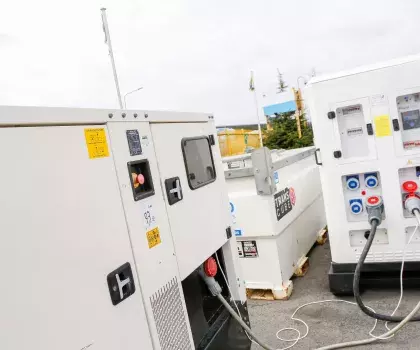 Generator Hire
On-site power with Algeco generator hire
Power when and where you need it 
The advanced range of generators for hire 
Algeco has partnered with a leading provider of generators so you can hire all the power you need, wherever you need it, nationwide. We can cater for anything from small to very large sites, and you can choose traditional fuel-powered systems or the latest battery-powered hybrid generator sets for reducing environmental impact. 
When you hire generators through Algeco, you can expect: 
A team that is dedicated to finding the right generator solution for your project, site or business and providing industry-leading customer service 
Generators for hire from 20kVA to 1260kVA, with cables and a distribution board (MDU) 
60-hour runtime as standard 
Smart telemetry included as standard 
Turn-key solutions for sites of any size 
Unlimited hours and fuel management available as options 
Lower-emission generator sets
As well as conventional diesel portable generators for hire, we have plenty of options for reducing your environmental impact, including Stage V-compliant generators, HVO-fuelled generators and hybrid generator sets, consisting of a generator and a battery. Battery storage units are rated at 24Kva and 48Kva, and make it easy to provide power continuously, without necessarily having to run the generator. If combined with renewable energy sources, the battery storage units allow you to minimise emissions. 
Our hybrid generator sets are also ideal for brownfield or urban sites where noise pollution might disturb the local community or be in breach of local noise guidelines.
View our Hybrid Power Solutions
Why Hire Generators with Algeco? 
Choose from one of the UK's largest provisions of portable generators for hire. Around 2000 machines are available, ranging in size from 20Kva – 1260kVA, all backed by a team of over 200 specialists providing 24/7 support from 10 strategically-sited locations across the UK.  
Compliant and versatile, our entire fleet is towable, containerised and Tier3a compliant (NRMM), with remote monitoring and tracking available. 
We know that industry-standard 50-hour runtimes often fall short of what our customers require, so we now offer 60-hour runtimes as standard across our range. 
Additionally, you will have access to advanced telemetry services to ensure you can stay on top of your fuel usage and ensure you are getting the best value for your money. Our smart telemetry also ensures that you choose the right-sized generator package for your site and, if your generator is not the right size, we will offer you a more suitable alternative. 
When you hire generators through Algeco, you can be sure to find the right solution for the right price, complemented by quality ongoing customer service. 
Services available include: 
Automatic Mains Failure
Load sharing and Load on demand 
Timed running 
Full site surveys  
Fast, efficient aftersales operations    
Our full range of specialist distribution covers all applications. Make sure you're getting the power you need when you hire site generators. 
If you're interested in portable generator hire for your temporary or portable building, please get in touch with our team today.