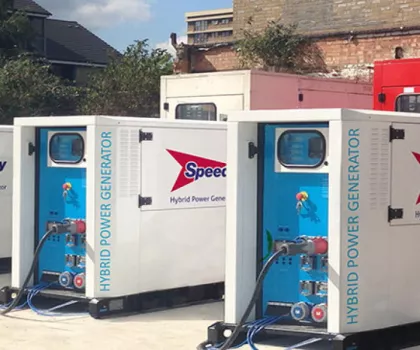 Generator Hire
On-site power with Algeco generator hire
Power where you need it
The UK's largest generator hire range 
Algeco has partnered with the UK's largest providers of generators so you can hire all the power you need, wherever you need it, nationwide. Our range includes generators for hire from 20kVA to 1260kVA that come with cables and a distribution board (MDU). Choose traditional fuel-powered systems or the latest battery-powered hybrid generators for enhanced sustainability. Unlimited hours and fuel management are available as options, too, ensuring you never have to worry about downtime. 
Advanced battery and hybrid systems 
As well as conventional diesel portable generators for hire, we can provide the latest battery-powered hybrid and fPOD fuel point of delivery systems for greater efficiency and reduced environmental impact. Battery storage units are rated at 24Kva and 48Kva and make it easy to provide power continuously, without necessarily having to run the generator. 
Massive range and expert support 
Choose from one of the UK's largest fleets of portable diesel generators for hire. Around 2000 machines are available, ranging in size from 20Kva – 1260kVA. All backed by a team of over 200 specialists providing 24/7 support from 10 strategically sited locations across the UK. 
Compliant and versatile, our entire fleet is towable, containerised and Tier3a compliant (NRMM), with remote monitoring and tracking available.
Services available include:
  Automatic Mains Failure
  Load sharing
  Load on demand
  Timed running
  Full site surveys  
Our full range of specialist distribution covers all applications. Make sure you're getting the power you need when you hire site generators.
If you're interested in portable generator hire for your temporary or portable building, please get in touch with our team today.