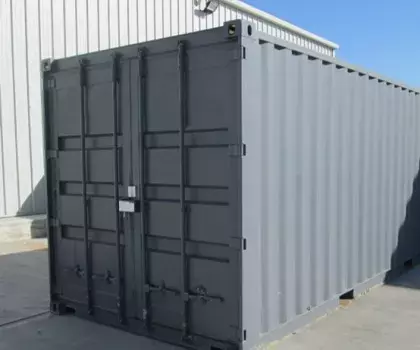 Storage Container Hire
Safe and Secure Storage Containers for Rent
Secure, anti-vandal storage container hire from Algeco is a fast, easy and convenient way to boost your on-site storage capacity. We offer storage container hire as part of our 360° site turnkey solutions, ensuring your site is equipped with everything you need to work safely and securely.
Algeco On-Site Storage Containers
Available sizes:
•    3 x 2.4m 
•    3.6 x 2.4m 
•    4.8 x 2.4m 
•    6 x 2.4m 
•    7.2 x 2.4m 
•    9 x 2.4m 
•    9.6 x 3m
Contact us today to learn more about the right on-site storage container hire for you.
We also offer a range of storage container accessories for hire, including racking, floodlights and spill trays, so that when you rent a storage container, you can store anything you need safely and securely.
Why Hire Storage Containers with Algeco
 Vandal-deterrent construction - Our anti-vandal all-steel construction ISO site containers for hire are highly durable and secure. Corrugated steel is used for exceptional structural strength, decay prevention, and resistance to dents or buckling. The high-security double doors in our storage containers for rent use our unique 10-pin secure locking system, a feature which is exclusive to Algeco. 
 
 Quick, simple installation - Installing and re-positioning your on-site storage container is easy, thanks to in-built lifting points which makes lifting by crane simple. Alternatively, our hired shipping containers can be moved by forklift using the specially-designed pockets in the floor beams. 
 
 Massive choice, small lead times - As industry leaders, Algeco maintains a huge fleet of secure storage containers for rent at our branches across the UK for rapid delivery and installation. Whether you need on-site storage containers for three weeks or three years, we can deliver the right site container for your needs within just a few days. 
 
 Clean and hygienic - Before it's made available for hire, each site container is rigorously tested and cleaned to ensure it meets our highest standards. 
For quality, secure storage container hire, please contact the team at Algeco today.