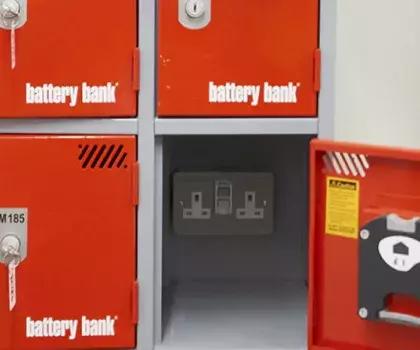 Power Tool Charging Station Hire
The safe and economical solution for charging your power tools
Remove the risk of clutter, dangerous and unsightly chargers, trip hazards or even a fire. This battery bank has been designed to provide a safe and secure environment for charging power tool batteries and mobile phones. Placed in a convenient position, the tool charging station is available for all to use. 
This efficient power tool storage solution is part of our turn-key hire service for temporary modular buildings. Adding a power tool battery charging station ensures that vital power tools can be left overnight and charging, ready for use the next day. 
Our power tool charging stations include:
  Secure charging
  Coin return locking
  2-gang RCD protected 13 amp outlets
  Vented lockers
  Individual identification numbers
  10 secure charging lockers
  Hasp lock - padlock and 2 keys
  MCB protected distribution unit
  3 metre lead with 230V 16 amp plug
  Cable exit point 
  User instructions 
  Fault-finding guide
Additional features include:
  Locker lighting for improved visibility in dark areas 
  Skid foot with rear-mounted wheel for manoeuvrability
  Step-up transformer to run battery bank from an 11 OV supply
  16-23 amp fly lead which allows the battery bank to be used from a standard 13 amp supply
  Key barrel removal and replacement kit
We have a range of 360 services to boost the security of your site, including multiple fencing options and anti-vandal buildings. Please get in touch to discuss our tool charging station hire or our additional products for temporary modular buildings.