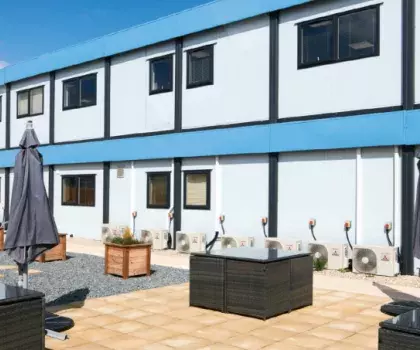 How to Manage a Modular Building Project
Our guide to helping project managers deliver modular buildings successfully
Follow our guide designed to help project managers deliver modular buildings successfully.
Whether you're a seasoned professional in sourcing modular buildings or you've been given the responsibility for the first time, there is a lot to consider to make sure your project runs smoothly. Our guide is based on years of experience across thousands of projects. If anything's unclear or you need more detailed advice, please get in touch, and we'd be happy to answer any questions.
1. DESIGN STAGE
The first stage of any modular building project is the design stage. You should consider the following questions when getting started with your modular building design:
•What is the building to be used for?
•How many people need to be accommodated? As a reference point, Health & Safety Executive (HSE) guidelines state that 11 cubic metres per person (including room height) is good practice for office environments.
•What types of rooms and how many of each type is required? For example, HSE guidelines state that two toilets and two hand basins are needed for 25 people.
•What specific industry standards must you adhere to? For example, building bulletins in the education sector and building notes in healthcare.
•Under the current Construction Design & Management Regulations (2015), what are your responsibilities?
Key Regulations Compliance Facts
•You must understand the relevant Building Control approval requirements and Building Regulations, particularly Part L (Conservation of Fuel & Power), Part B (Fire Safety), Part M (Access to and Use of Buildings), and Part F (Ventilation).
•Generic calculations can be used for temporary buildings used for less than two years and under 1000m².
•Buildings under 50m2 are also exempt from Part L under Regulation 21.
 •Note: Building Regulations Part L requires project-specific calculations and an Energy Performance Certificate (EPC) for buildings sized over 1000m2 and on-site for longer than two years to gain Building Control approval.
•Your modular building provider should be able to manage the Building Control approval process for you.
2. PRE-CONSTRUCTION STAGE
Once the design stage is completed, the pre-construction phase usually begins. Below is a list of questions and key points to consider during Phase 2 of your modular building project: 
•Appoint a Principal Designer to lead the planning, managing and monitoring of Health & Safety during the pre-construction stage of the project. Algeco can do this for you if needed.
•Does the project require planning permission? Planning considers the impact on the local area and building aesthetics. Unless they are on-site for less than 28 days, all modular buildings need planning permission. Construction site accommodation is classified as ancillary buildings, so they are exempt from planning permission.
 •Has a planning permission application been submitted? Granting permission usually takes between 4-8 weeks. But, again, Algeco can manage the application for you where needed.
•Is Trackway needed to protect surfaces underneath? The weight of delivery vehicles can damage fragile top surfaces and low-grade concrete.
Key Site Conditions Points to Check
•The type of groundworks required. For example, certain specifications are needed to accommodate the building's size, weight, and point loadings.
•The site survey should also involve a crane representative to assess any access restrictions and health and safety considerations, including the size of the crane needed to lift modules safely.
•After the site visit, a survey checklist should be completed and shared with all parties.
•Check preparatory works and solution design changes needed that are identified from the site surveys.
•To mitigate risks, including coal mining, drainage and flood risk, radon gas monitoring and unexploded ordinance, carry out desktop research about the site. This could indicate the need for further ground investigation, waste analysis, possible contamination and existing services survey reports.
You may opt to carry out a free site survey with Algeco to check the points raised by investigations at this stage, such as identifying power and water sources, site access, and the best building orientation before the build begins.
3. INSTALLATION STAGE
To help you prepare for your modular building installation, we have listed below some of the key aspects and points to consider:
Building structure and exterior
•Appoint a Principal Contractor to lead the planning, managing, and monitoring of Health & Safety during the project's construction stage. If needed, this is something that Algeco can assist with.
•The site must be prepared with workers, clients, and visitors' health and safety as a top priority.
•Fencing is required to close-off work in progress areas. Algeco supplies a range of temporary fencing options for sites for this purpose, should you require it.
•Signage is essential to highlight safety equipment requirements and potential hazard warnings.
•Generators may be needed to provide temporary power to the site until services connections (such as electricity and water) are made.
Key Installation Preparation Points
•Electricity and water service supplies
 Arrangements must be made with your local water and electricity companies to ensure the site and building is supplied. This process is usually straightforward if your modular building is an addition or extension to existing buildings but can be more complex if it is a new 'greenfield' site. 
•Site welfare facilities
Larger projects will need on-site welfare facilities, such as toilets, washing and rest areas for building workers to use. Modular building providers normally offer these products as well. Other, self-powered units will be needed if service connections are not established. If not, mains-supplied units are fine.
•Groundworks are required
 For modular buildings, these are usually pad foundations that the modules rest on, prepared by a groundworks contractor. Again, Algeco can manage this for you.
•Managed transport movements
 Modules are delivered on HGV trucks and are offloaded by a separate free-standing crane. Vehicle and crane movements are safety-critical, so pathways must be unobstructed, large enough to accommodate the vehicles, and non-essential staff should be kept well away from the area. In addition, movements must be supervised at all times.
•Connections to services
 Once your modular building is fully installed and weather-proof, it will need to be connected to the electricity, water and drainage networks – this is something Algeco can arrange if required.
•Site accessibility
Equal access for all is vital, especially for public-use buildings. Algeco offers a wide choice of ramps, steps and lifts, ensuring that your building complies with Building Regulations Document M: access to and use of buildings.
•Intruder and Fire alarms and CCTV equipment
 Prevention is better than a cure, so Algeco can offer a full range of alarm systems to deter break-ins and manage risk.
•Disabled refuge areas and alarms
You should designate specific areas within buildings with minimum half-hour fire resistance and allow wheelchairs to manoeuvre safely on-site without impeding fire exits. In addition, call for assistance alarms must be located in the refuge areas. Please let us know if this is something that Algeco can provide.
Internal environment
• WiFi and data access is the first requirement of a modern office environment. Algeco can arrange network connections to ensure connection happens at the right time to avoid project delays.
• Furniture will be required, most commonly computer workstations and suitable office chairs. Algeco can supply your site with our furniture hire service, delivered with your building, for maximum convenience.
•Climate control is the most effective way to ensure a comfortable, productive environment all year round for all building occupants. Modern systems are also low-energy consumption, so they are sustainable and affordable options.
Key Services and Equipment Required
• Kitchen and catering equipment is needed for most office environments, so food and drinks can be prepared. Algeco can design the kitchen area and supply white goods to meet the needs of your project.
• Commercial kitchens may be required for large projects or specific applications; for example, schools may require full commercial kitchens to provide large numbers of hot meals. Where needed, Algeco can supply commercial kitchen equipment for you.
• Washroom consumables are needed in modular buildings that have toilet facilities for users, with consumables (such as hand wash, air freshener and paper towels) dispensers. Algeco offers a consumables refill service in our interior turn-key hire solutions package.
• Hygiene solutions, including desk screens, PPE, hand sanitisers and dispensers, are essential to a clean, functioning workspace.
 •Fire safety equipment is required in the unlikely event of a fire, so you will need fire-fighting equipment on-site. Algeco can offer fire extinguishers and blankets to store in your modular building.
Environmental Considerations
Sustainability is hugely important for all modular building projects, especially when buildings account for 45% of UK carbon emissions. Reducing energy consumption is important for lowering this figure to become more sustainable. Lights in contemporary modular buildings should be LED and have PIR sensors detecting movement, so they automatically turn off when the space is not in use. As part of our sustainability mission, Algeco can provide the following:
• Energy-saving heaters with wireless control and timers, so heaters can be programmed to turn off when rooms aren't in use.
• Non-concussive taps that conserve water and turn off automatically, along with waterless urinals. In addition, thermostatic taps fix the water temperature at a safe level, usually around 40°C, consuming less energy in heating water to higher temperatures.
4. HANDOVER STAGE
•Inspection
Once the project has reached 'practical completion', the building should be thoroughly inspected for any faults that might cause dissatisfaction amongst users.
•Snagging
There will likely be some imperfections before the handover. Identify these so they can be rectified and the building can be handed over without delay.
•Operations & Maintenance (O&M) Manual
A comprehensive document that details drawings of the building, showing service points for maintenance and records, operating instructions for major equipment, occupier responsibilities and help contacts.
Ensuring a Smooth Handover
•Handover meeting
Once the building is fully complete, it's best practice to hold a handover meeting with the major stakeholders, such as the client, the Principal Designer, the Principal Contractor and Algeco, as your modular building supplier. During this meeting, training in basic operations and maintenance of the building can be carried out. A copy of the O&M manual may also be handed over for reference.
•Hiring
If your building is hired, you need to ensure that it is kept in good condition, maintained, and any accidents reported to Algeco. In the O&M manual, you will find details of how the modular building should be looked after.
 
If you have any further questions about modular building projects or modular building design, please get in touch, and a team member will be happy to assist you. Alternatively, please feel free to browse our range of 360 services to support your project.