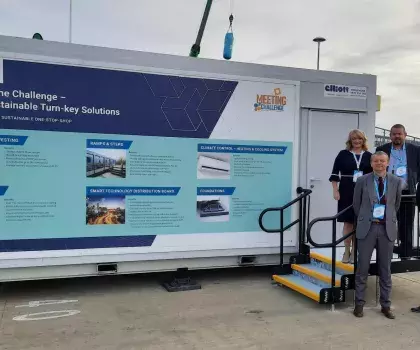 Meeting the sustainability challenge
Elliott were invited to showcase at the Morgan Sindall Group event 'Meeting the Challenge'. Alongside other members of Morgan Sindall Group's supplier family, the day highlighted sustainability. Offering plenty of opportunities for sharing and learning best practices on how to drive sustainability in the future.
Despite the challenges of the fuel crisis Elliott were able to deliver, set up, connect and remove a ready-made office solution for the 1-day event. Proving once again that they have the agility and logistical abilities to overcome any situation.
As long-established partners of the Morgan Sindall Group, Elliott were keen to show their support and help to educate customers on their developments and features to help reduce emissions and improve sustainability. It was also the perfect opportunity for Elliott to introduce prototypes of environmentally friendly products and gather customer feedback.
Elliott's sustainable foundations were a talking point of the day. Aiming to reduce the need for concrete in the ground and instead used recycled plastic and steel, offering a quicker and more sustainable solution. Alongside that Elliott displayed office furniture also made of recycled plastic.
Sustainability is at the forefront of Elliott's mind with their buildings offering different solutions to decrease electricity and carbon emissions. Morgan Sindall Group's event allowed Elliott to continue building relationships with other suppliers and promoted inter-organisational working. Helping generate enthusiasm for Elliott's initiatives but also confirming that they're heading in the right direction when it comes to sustainability. So Elliott can continue to offer its customers the best solution to meet their needs.