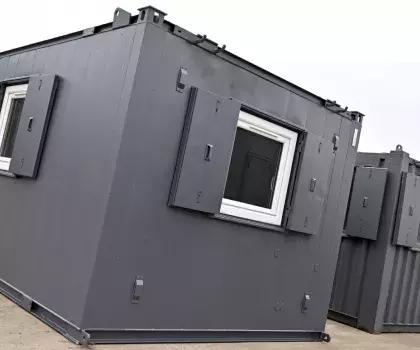 7 Reasons That You Need an Anti-Vandal Site Office
One way to keep your site, staff and equipment secure is to invest in anti-vandal site offices. Over the past year, cases of criminal damage and arson rose by 13%, and there were roughly 2.6 million incidents of theft; these statistics highlight the importance of keeping your site safe.
Here, we look at seven reasons that you should consider vandal-proof portable offices for your site, and how they can be beneficial for your business.
What Is an Anti-Vandal Site Office?
Anti-vandal security cabins are designed with enhanced security features to protect your staff, site and equipment from vandalism, theft or damage. They are ideal for unsecured construction sites or builds, as they can protect your site office, gatehouse, welfare buildings and site storage even without a perimeter.
With strong steel wall panels that are welded to the structure, steel window shutters, and steel doors with anti-jemmy edges to resist break-ins, you can feel rest assured that your site office is kept safe and sound throughout the project.
Benefits of Anti-Vandal Site Offices
Protect your most important assets
Your site office, along with other buildings such as toilets, welfare buildings and storage, is an important part of the build project as a whole. Without a site office, your project wouldn't run smoothly, and your workers would have no place to rest and recuperate.
If your site offices were to be vandalised or broken into, you may lose vital documents and expensive equipment. Ultimately, this would delay your project while you fix or replace what you've lost, all while incurring additional costs.
 
Peace of mind for you and your clients
A vandal-proof site office is specifically built to secure your building against theft and damage, so you can go home at the end of the day confident that anything you have left in the anti-vandal unit will be there tomorrow. This also means that you can offer your clients a high level of security.
 
Fit any specification with flexible layouts
Our anti-vandal units are available in a range of dimensions and are completely flexible, allowing you to work exactly the way that you want to. They can be linked together to create office space for a larger workforce, and where ground space is limited, the cabins can even be stacked one on top of the other. 
Not only are our offices flexible, but we offer a whole host of other types of vandal-proof site buildings too. From portable toilets and portable canteens with running hot and cold water to eco-friendly sleeper cabins, finding the right solution for your construction project is easy.
 
Available Instantly
There's no need to wait around for units to be made or become available. Our stock means that vandal-proof site offices are available to be delivered to your site ready for immediate use, and can be completed, delivered and installed up to 50% faster than traditional building methods. We also have a range of Anti-Vandal+ cabins in stock should you require even higher levels of security onsite.
 
Security outside, comfort inside
Just because you need an extra layer of security, doesn't mean your vandal-proof site office should be bare-bones. At Algeco, our anti-vandal site offices are available with turnkey solutions for your office's interior and exterior, including climate control, WiFi, white goods, furniture and more.
 
Cost-effective office solutions
Using portable anti-vandal site offices can save you money in various ways. With enhanced security, they replace the need for a secured perimeter and reduce staff costs. What's more, the portable construction methods mean a fast installation, enabling a quicker return on investment and allowing the business to get to work.
We even offer used modular buildings, which are both more environmentally friendly and cheaper than buying brand new.
 
Sustainable and efficient building options
Many companies are looking to increase sustainability and reduce their carbon footprint, so it's important to find a portable vandal-proof site office that can do just that. Our Anti-Vandal+ specification site offices are fitted with double-glazed, A-rated energy-efficient windows (made from recycled PVC-U), LED lighting and heaters controlled by thermostats and timers.
We can also provide generator hire, including hybrid generator solutions, which can help reduce your carbon footprint while you power your site.
If you're in need of tough, secure anti-vandal site offices for your construction site, then please don't hesitate to get in touch with our expert team today. Alternatively, check out our other portable buildings for hire.