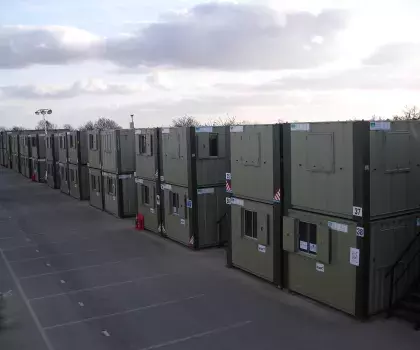 Blast Resistant Buildings Hire
Blast resistant buildings - flexible uses, flexible in practice
In-built protection from potential explosions 
Market-leading choice
Algeco is the market leader in blast-resistant portable buildings that are designed for use wherever there's a risk of explosions, whether accidental or intended. Known as COMAH sites, these locations need a risk assessment and suitable protection in place. Our range of blast-resistant temporary buildings provides protection that meets all relevant standards. 
Versatile and widely-used
Originally designed for the petro-chemicals industry, our blast-resistant portable buildings are available for all COMAH locations, as well as being used by emergency services use in army training exercises and police training programmes for responses to riots and terror attacks. The range includes:
 Offices
 Canteens
 Changing rooms
 Toilet blocks and showers
Units can be provided either individually or linked together. 
Independently certified to perform
 Certified by an independent industry specialist, our anti-blast range is generally manufactured to withstand 100Mba free-field overpressure with 200Mba reflective overpressure on any face. The pulse duration used is 100m sec. 
We also supply a fire-rated unit to withstand 300mba FFOP for use as refuge from fire or toxins. They achieve a target level of protection of just 1% vulnerability.  
Don't take risks when it comes to safety; secure your site with blast-resistant buildings. Speak to our team today to learn more.