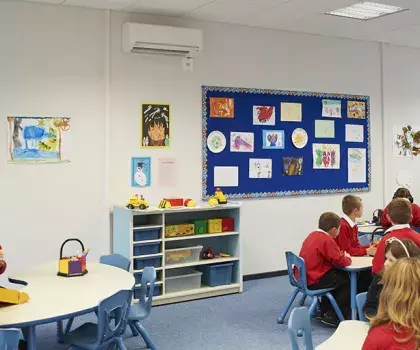 How Modular Buildings can Impact Academic Success
Children spend more time at school than anywhere else, on average 200 days each year, with 70% of this time spent within classrooms. It is known that the classroom indoor environment can influence student performance and wellbeing. The ability to create the ideal learning environments can be difficult, particularly with traditional bricks-and-mortar infrastructure, however, the use of modular buildings can alleviate these construction issues.
A study conducted by The Schools Indoor Pollution and Health: Observatory Network in Europe (SINPHONIE) carried out a cross-sectional investigation to assess both indoor and outdoor air in the school vicinity to best understand the relationship between indoor air pollution and the health of the occupants. From this study, it was found that lighting conditions played a significant impact on student academic performance.
Interestingly, the study also found a positive association between window-to-floor area ratio on student performance and wellbeing. The study stated, 'as the window to ratio is a measure of how large a window is in any given space, we conclude that larger windows can have a positive effect on students. This may be a result of abundant light but may also be an indication that students who feel less closed in are more relaxed and can concentrate on their schoolwork.' It should, therefore, be crucial learning that when constructing buildings for academic use, these factors are taken into consideration.
Modular buildings can provide the perfect solution for extending or creating new classrooms or academic facilities. Versatility is one of the key benefits when using modular buildings, whether that be in use, size, style or permanency. Another is the speed in which they can be erected - potentially in a matter of weeks - allowing students to get back to normal school life, and an optimum learning environment as quickly as possible.
Elliott has been a key player for fifty-five years in providing high-quality academic facilities that not only meet the needs of the school but are also sympathetic in style to the surroundings in which they are built. The Brunts Academy in Nottinghamshire is a clear example of this, where a permanent solution was commissioned. The 22-bay building housed nine standard classrooms over two floors with one internal and external staircase.
Natural light was a key component with numerous windows in each classroom, to maximise daylight and to create an open feel to the classrooms. To ensure the aesthetics of the new classroom facility were consistent with the prestigious traditional built classrooms across the site, Elliott used a combination of white Permarock Render and horizontal Cedral Cladding stained in "Blue Grey".
Modular buildings can also be solutions for larger scale projects. In May 2019, Elliott was commissioned to construct a new facility for Mayfield Primary School, in the London Borough of Ealing. The original buildings stood as a time-served 'CLASP' system which were in a poor state of repair, and inefficiently configured.
The project saw the relocation of students into temporary accommodation, followed by a construction of a new three-storey 2,214m building complete with drainage, new service connections and associated hard and soft landscaping. A key challenge was delivering the scheme safely whilst the existing school facility operated.
This was successfully achieved, and minimum disruption was made to the live education environment. The result was a light and airy facility that enhanced all the learning environments, which in turn promotes the improved learning outcomes for both staff and students, as demonstrated in the SINPHONIE study. Find out more about this impressive project here: Mayfield Primary Academy
Overall, modular buildings are the modern solution to overcome the limitations that are facing many academic facilities across the country. Modular buildings provide versatility in design, size and style that cannot be replicated as efficiently with traditional construction. Greater emphasis is being placed on creating environments that enhance student's wellbeing and that put improving learning outcomes at the heart. In the future, we hope to see more modular building facilities being used throughout the country to help alleviate issues within schools and to provide fulfilling learning environments for students and teachers alike.