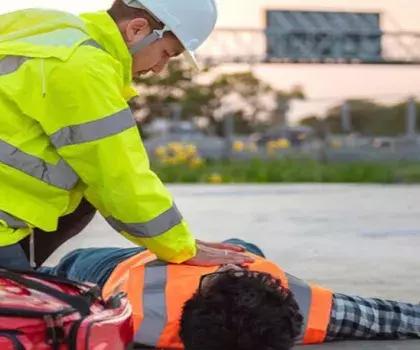 Defibrillator and First Aid Kits Hire
First aid kits and defibrillators
First aid kits and defibrillators are an essential part of workplace safety. Whether you're looking a first aid kit for a construction site or a temporary office building, our comprehensive hire service contains everything you need to support your workforce. We understand that there's no room for compromise when it comes to the provision of first aid equipment, which is why each of our kits and defibrillators complies with all the relevant standards and are maintained to ensure they're up to date and ready to use when needed.
Details of our site first aid kits
Our first aid kits are suitable for medium and high hazard environments and compliant with BS8599. Each kit provides appropriate protection for 25-100 people for medium hazard locations. Further, each of our kits would serve 5 to 25 people in a high hazard application. Simply order as many kits as you need to protect the number of people usually on-site at your location. 
All of our first aid kits for hire are supplied in durable plastic boxes with clip-in wall brackets and include: 
  12 Safety Pins
  2 Burn Dressings (10cm x 10cm)
  2 Conforming Bandages (7.5cm x 4m)
  2 Emergency Blankets
  2 Large Dressings (18cm x 18cm)
  3 No.16 Eye Pads
  3 Sterile Finger Bandages
  3 Triangular Bandages
  30 Moist Cleansing Wipes
  6 Medium Dressings (12cm x 12cm)
  9 Disposable Nitrile Gloves
  Adhesive Tape (2.5cm x 10m)
  Clothing Cutters
  First Aid Guidance Leaflet
  First Aid Kit Content List
  Resusciade
Defibrillator pack (AED) and replacements
Our automated external defibrillators (AED) enable rescuers to provide swift, effective, and life-saving therapy to people who experience sudden cardiac arrest (SCA). They combine fully automatic shock delivery, dual-language functionality, variable escalating energy, and fast shock times to help save a victim's life. As well as checks that you can carry out yourself, we maintain the defibrillator so that is always rescue-ready.
Each defibrillator hire pack includes 1x automatic AED with CPR feedback device, 1x battery and 1x set of pre‐connected adult ICPR electrodes with real time rescuer CPR feedback.
If you have any questions about our first aid kits or defibrillator hire service, please get in touch, and a team member will be happy to find a solution for your needs.