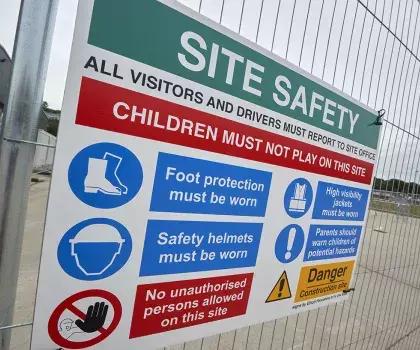 A Guide to Securing your Construction Site
A Guide to Securing your Construction Site
The threat from thieves, burglars and criminals is constant when it comes to the construction site. The cost of theft or damage can be ongoing too – from project delays, from the replacement of materials to increased insurance costs.
Here are our tips to help you make sure that your construction site is kept both safe and secure.
Plant and Tools
Plant machinery theft currently accounts for millions of pounds in annual losses in the UK, and despite a crackdown on selling stolen goods, recovery of this machinery is unlikely.
All plant machinery and vehicles should have ignition keys removed at the end of the day. If possible, they should also be immobilised.
Record all Vehicle Identification Numbers (VIN)
Use a tool safe to protect smaller tools and machinery from theft.
Use a security marking on tools and plant machinery to help retrieve stolen items. Encourage contractors and personnel on site to do something similar with their tools too, whether it is writing the postcode on the item or painting it an unusual colour, it can make it easier for police to recover them.
Perimeter
Hoarding/Fencing
The benefits to hoarding and fencing are obvious, as it not only provides a physical barrier, but it also prevents opportunists from seeing what's concealed inside.
Be careful of creating climbing aids. Often these come in the form of street cabinetry that intruders can use to get a leg up over, and through the installation of locks around entrances.
Ensure that materials are not stacked against the hoarding or fencing, as this can also be used as a climbing aid.
Clean often to prevent graffiti building up or collaborate with a local artist to decorate hoardings so graffiti doesn't appear in the first place.
Make sure it is maintained throughout the project, so security remains high.
Entrances
Your doors and gates are often the weak point in securing the perimeter. It's easy for unauthorised people to gain access, whether through opportunity, persuasion, or force.
Keep to a minimum to make it more difficult for unauthorised people to gain access.
Turnstiles are an excellent way to control access to a site, especially when paired with an electronic access control system.
Check that the hinges on gates are not accessible from the outside so unwanted guests can't lift the gates.
Make sure your locks and padlocks are of a high standard. Look for Sold Secure and Secured by Design, as these are the accreditations recommended by the Police.
Lighting
Often touted as a deterrent to burglars, lighting means that unwanted guests feel more on show, and so are less likely to want to break in. However, there are some guidelines to follow, as there is a possibility that your use of lighting could make your construction site a more tempting target for burglary.
Your construction site should have lighting evenly spaced around the whole of the perimeter. This ensures that your site is illuminated all the way round.
Lighting inside the site should also be uniform – choose low wattage lighting throughout as opposed to high level floodlights. This means that there won't be any dark pools for intruders to lurk.
CCTV
Another well-known deterrent, CCTV has the added benefit of potentially helping the police identify suspects. It works well alongside security lighting, but care must be taken not to create glare on cameras.   
CCTV cameras should be positioned so they overlook entrances and exits, as well as buildings of importance.
Consider night vision and motion-activated cameras, some are also available with heat sensing and face detection technology.
Display warning signs informing potential intruders that you're operating CCTV on this site.
Site Office & Accommodation
Your site accommodation buildings are hubs of important documents, plans and keys, so it's important to think about this location in terms of security too.
Look for temporary buildings that are protected from arson or fire as well as break ins. A building made from steel, with security doors, shutters on the windows and multiple locks is recommended.
Use a system so you have a paper trail of key holders. A key safe and a sign in/out system will work.
Security passes or badges makes it obvious if there's someone unauthorised on site, and easy to challenge.
Our anti-vandal+ range is perfect for making sure that your site accommodation is protected against damage, vandalism and theft. Ideal for a variety of workplace uses, our range is equipped with modern anti-vandal technology, including an integral locking system, steel window shutters and doors with anti-jemmy edges. They also have double-glazed windows to prevent heat loss. Take a look at the full range of anti-vandal site accommodation here.
Urban Explorers
As the name suggests, urban explorers are people who explore structures such as abandoned buildings and underground railways. They have been known to both cause damage and suffer serious injury.
What to look out for:
They may wear hi-vis to look official, but they are likely to be carrying a backpack for cameras and equipment to pick locks
They may befriend security, and/or distract security
They may have a drone with them
They may conduct reconnaissance during the day
Use anti-climb paint in vulnerable areas, and ensure that you use signage to provide warnings.
You should also employ the policy of challenging anyone without a security pass.
Depending on the scale of the project, these tips may need to be adjusted.