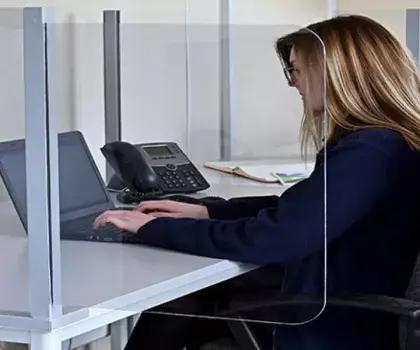 Hygiene Screens & Solutions for Hire
Hygiene screens and other hygiene solutions available from Algeco
Hygiene screens for offices
Our hygiene screens are ergonomically-designed to complement our hire furniture and maximise space and user comfort. Made from robust, 5mm thick translucent polycarbonate with a steel post and screen system, our hygiene screens are designed to reduce the transfer of air-borne particles in compact spaces. In addition, each of our sneeze screens for desks is designed to fit in with your existing furniture, climate control systems and points of access. Finally, all screens are fully recyclable at the end of life, making them a sustainable solution.
Complete hygiene solutions
We have a range of additional hygiene solutions available for hire to compliment your hygiene screens for desks and ensure all workspace areas remain safe and clean. For example, signage can direct movement and encourage social distancing and handwashing. In addition, hand sanitiser dispensers are available as part of our washing and skincare systems, all of which are supported by refill services.
Hygiene screens are just one aspect of our 360° approach to our temporary modular building services. To understand more about how our hygiene screens can improve the hygiene of your work environment, please get in touch.