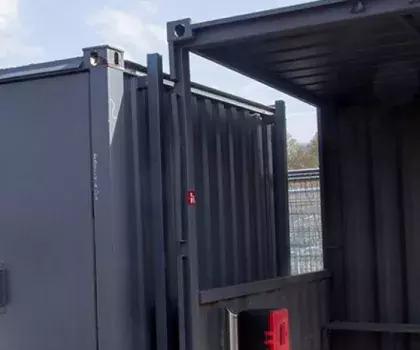 Temporary Smoking Shelters Hire
Designated area for smokers and vapers
Algeco temporary smoking shelters provide a designated area for smokers, in line with current legislation. Available to hire for the duration of your building's contract, temporary smoking shelters offer the necessary accommodation staff need to remain content and productive. 
Equipped with a full-length seat rail and two cigarette bins, each durable 2.7x1.9m steel portable smoking shelter is delivered ready to use, with no need for a concrete base. Smoking shelters protect smokers or vapers from the weather and quickly disperses cigarette smoke. Suitable for all types of sites and locations, including permanent office campuses, temporary facilities and construction sites, our site smoking shelters help to avoid unsightly litter and mitigate fire risks caused by discarded cigarettes.
For more information on temporary smoking shelters and other temporary solutions (such as toilets, generators and storage), please contact our team. Or, browse our range of temporary and portable buildings to compliment your site.