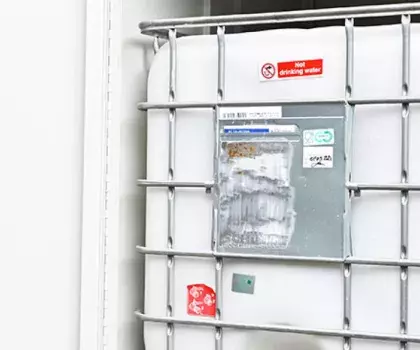 Water Bowser Hire
Water on tap, anywhere
All sites need a regular, plentiful supply of water from day one. The fastest and most convenient way to ensure this is to hire water bowsers. Algeco's EasyFlo 1000 water bowser for hire is a 1000-litre portable water storage tank, fully protected by a steel enclosure and complete with a built-in pump to supply water to your Algeco cabins on sites with no mains water. 
Easyflo water bowser details
  Manufactured from 3mm mild steel 
  1000-litre water storage capacity 
  Heavy-duty top-lifting lug on all four corners 
  Tank, tube heater and electrics concealed behind lockable doors 
  Tap and external socket fitted in a recess for protection 
  Can be double-stacked for extra capacity 
  Replenishment service available 
  Height 175cm, width 164cm, depth 135cm
For more information about our mobile water bowser hire or any of our other turn-key solutions for hire, please get in touch with our team today.