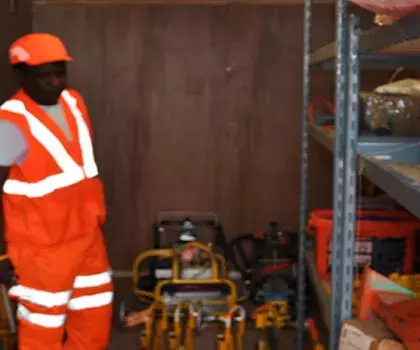 Storage Container Accessories Hire
Storage Container Accessory Hire
Make the most of your Algeco storage container hire with our handy storage container accessories. You can rent a number of accessories to go with your storage container to ensure that the space is used effectively including racking, lighting and spill trays. 
Three-Tier Racking
Our three-tier racking is a storage container accessory that maximises the accessible space within your container. With moisture-resistant chipboard shelving on a heavy-duty frame, this racking is designed to help you keep all kinds of equipment safe and easy to access. 
Rechargeable Magnetic LED Floodlight 
Especially useful during those dark winter months when daylight is short-lived and for those sites which operate overnight, this floodlight will illuminate your workspace for improved safety.
Our Premium package provides a mains-connected electrical board for sockets and lighting as well as racking and floodlight shipping container accessories. 
Spill Trays 
When you're storing and working with liquids such as paints, thinners and other fluids, this 800 x 600mm plastic bunded spill tray features an upturned lip to prevent spills spreading. Two bunded trays will fit neatly onto each racking shelf, making this an ideal shipping container accessory.
Ready to start your new project? Get in touch with our expert team.