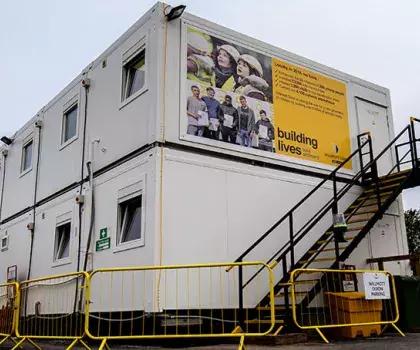 Branded Banners, Logos & Graphics for Modular Buildings
From your one-stop building hire specialists
High impact graphics
Add high impact graphics and messages to your rental buildings simply and easily with our fast installation service. Printed on solid PVC or mesh material, the graphic banners can be installed, changed or removed quickly without impacting the modular building. Produced using the latest digital printing technology, branding banners are mounted on a standard frame in white, reflective finish or a choice of other colours.
Innovative display system
All the graphics we provide use a patented frame and mesh system licenced to our partners for the UK and Ireland. The system, tested by MIRA in the UK and the Ohio Transportation Research Centre in the USA, has a 100% safety record.
Rapid installation
Installation can be completed on-site within 24-hours or before your building is delivered.
Ready to start your new project? Get in touch with our expert team.