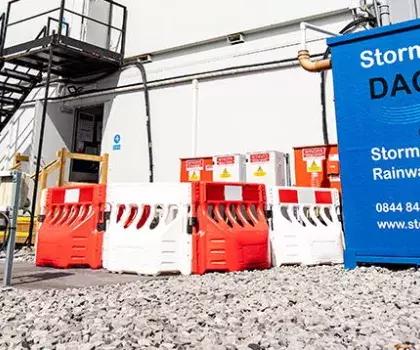 Pedestrian Safety Barrier Hire
Wherever there are roadworks or incident locations where pedestrians might enter the working space, you need effective traffic and pedestrian management. Algeco's pedestrian safety barriers provide the ideal fencing solution.
Pedestrian barrier details
Each plastic pedestrian barrier is supplied with:
  Non-trip, highly-visible feet
  Innovative lockable connectors
  A reflective panel for improved visibility
They are also designed to be stackable and easy to transport as necessary. Our pedestrian barrier system is compliant with both Chapter 8 Street Works Code of Practice and BS7818. It protects pedestrians where work is being undertaken on or close to a footpath and ensures that pedestrians do not enter the working space.
At Algeco, we offer full turnkey solutions for our temporary buildings, so whatever you need, we can sort it. Want to learn more about our turnkey services and how they can work for your project? Please contact a member of our hire team today.