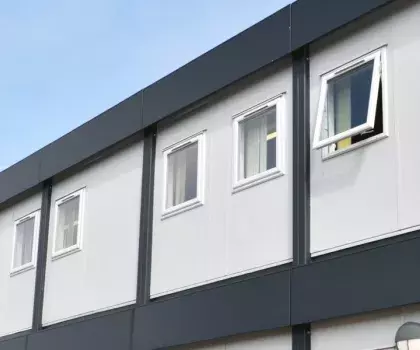 Types of Modular Construction
There are various types of modular construction methods, however all buildings created using modular construction methods are products in factories and engineered to be delivered to a location ready for almost immediate use. 
Modular buildings are also referred to as volumetric units. This means that they create a structure that is enclosed on six sides – walls, floor and ceiling – forming an enclosed space that can be measured by volume. The buildings can be stand-alone or be used as a component within a larger building, formed by fitting together a number of modular units.
Modular construction methods and modular buildings offer numerous benefits, including sustainable building practices, enhanced quality control, and a quicker project completion time compared with traditional methods. 
On this page, you'll find a guide to types of modular construction methods. It provides you with an authoritative overview of the main types of modular construction and the different purposes for which they are used.
Three Main Types of Modular Construction Structures
Modular buildings provide highly flexible spaces that can be customised to suit many different uses. The basic structure, however, can be categorised into one of three basic modules: 4-sided, partially open-sided or fully open-sided.
4-SIDED MODULES
Fully enclosed spaces.
Four walls, ceiling and floor.
Additional bracing to gables or a stabilising central core is fitted where max height goes above three storeys.
PARTIALLY OPEN-SIDED MODULES
Enables the introduction of open spaces into a module.

Requires the addition of corner and intermediate posts, as well as a strong edge beam in the floor.

Intermediate posts are usually square hollow sections that fit within the wall space.

Windows, doorways or completely open sides can be accommodated.

Maximum height depends on the compression resistance of the module's corner posts.

A versatile option to accommodate windows, doors, or completely open sides and connecting corridors between modules.

Additional bracing may be needed during installation.
OPEN-SIDED MODULES
Open-sided modules that achieve rigidity through strong corner supports.

Construction achieved using square hollow sections and parallel flange channel edge beams.

Beam depth is greater than for 4-sided modules.

Additional X-bracing required.

Maximum height is usually no more than three storeys.

Modules can be fitted together to form large open spaces.
ADDITIONAL OPTIONS
All types of structure used for modular buildings can include options such as balconies, atria, and staircases – often in their own modules. Different types of module and floor cassettes can be mixed together within a design for maximum versatility.
Different Uses of Modular Buildings
The versatility offered by the various types of modular construction means that they are suitable for use in a wide range of locations and for an equally wide number of purposes. Some uses are particularly suited to a particular type of modular construction.
Individual modules are ideal as temporary space for a small number of people.

Often used as staff cabins on construction sites.

Easily installed and transported for relocation for another site.
Virtually any size or shape of open plan spaces can be created for any number of occupants.

Versatile, rapid, efficient alternative to traditional building methods.

Non-permanent buildings that are not covered by building regulations for permanent structures.

Wide range of applications including commercial and office space, healthcare and education settings.
MODULAR BUILDINGS
Available to hire or buy.

A more permanent solution than temporary modular buildings.

Designed to meet building regulations for permanent structures.

Highly versatile design and layout options.

Suitable for buildings up to four storeys high.
If you're about to manage a modular construction process for the first time, we hope this guide has help you to better understand the different types of modular construction. For more information, please read our guide explaining what modular buildings are or get in touch with Algeco today.