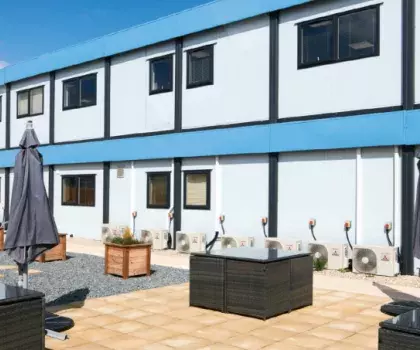 Modular Construction Sustainability
Is modular construction more sustainable than traditional building methods? The short answer is: yes. For example, production processes generate less waste and the buildings are significantly more recyclable.
But these are only two reasons why the sustainability and process benefits of modular construction produce a significantly lower environmental impact. There are many other ways in which modular construction outperforms traditional methods.
How does modular construction reduce waste?
Creating a building that is more sustainable begins right from the start of the manufacturing process. By choosing to create buildings in a factory – rather than onsite – we have total control of the production process. This is a significant benefit of modular construction as it allows for greater standards of efficiency and far less waste. In fact, our modular construction processes generate only about half the amount of waste materials compared to traditional methods of production. 
How is modular construction sustainable?
Repurposed and re-used...again and again
Modular buildings can be relocated, repurposed and reused multiple times during their lifetime. A typical portable building can be hired approximately 20 times during its lifecycle. Each time it is used, the building provides a fast and flexible solution to a specific need for accommodation. The sheer versatility of a modular solution means that it can be deployed more rapidly, with far less disruption and environmental impact than a traditional building.
Most recyclable, less landfill
Algeco buildings are manufactured to high standards for a long and efficient working life. They're also made with recyclability built in. Up to 96% of materials are recyclable once an Algeco modular building comes to the end of its economic life. This means that, right from the design stage, we work to minimise the amount of material that goes to landfill. The more we can recycle, the lower the environmental impact – not only for us as manufacturers, but also for you as you aim to achieve your own sustainability goals.
Responsibly sourced materials
As well as using materials as efficiently as possible, we make sure that materials we use are from sources that are sustainable or, where appropriate, recycled. This means ensuring that the supply chain is transparent and, in many cases, fully certified. The net result is complete confidence that every Algeco building achieves the high standards of sustainability that are an increasingly important requirement for end users of the building.
Engineered to be energy efficient
Every Algeco building is fitted with climate control and energy-saving features, such as efficient LED lighting and heaters that consume far less energy than conventional systems. The results are outstanding. By cutting energy use, energy costs and environmental impact are both reduced. The environmental footprint of each building is reduced even further by the use of highly efficient insulation materials. In addition, less energy is used in production as our processes take far less time to complete a building than traditional methods.
Minimised levels of pollution
Construction using traditional methods can be a very messy business that, inevitably, causes some pollution. Algeco modular buildings minimise pollution in a number of ways. Building in a factory takes less time and produces less waste – and pollution - than conventional methods. It's also far easier to track and control waste products for responsible disposal in a factory environment. In addition, the materials used in modular buildings tend to be lighter in weight than traditional construction materials, which reduces the emissions caused by delivery and transport. 
Cleaner operations onsite
When an Algeco modular building is installed onsite, the process is quick, efficient and remarkably clean. The whole modular construction process is rapidly achieved, requiring far fewer journeys to site by the workforce, and far less risk of air, water, dust and noise pollution.
These are just some of the ways that sustainability in modular construction is achieved. To learn more about what modular buildings are, please read our dedicated guide. If you'd like to discuss a modular build for your upcoming project, please get in touch. 
Browse our resources
From case studies and frequently asked questions to downloadable information and brochures, we're to help you to give any information you need about our products and services. If you can't find the answer here, get in touch.