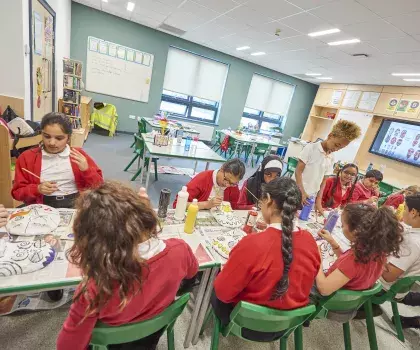 The Challenges of School Buildings: Why offsite builds positive change.
A recent National Audit Office report highlighted the alarming fact that approximately 700,000 pupils in the UK are studying in schools that require urgent attention. The two major issues are the presence of Reinforced Autoclaved Aerated Concrete (RAAC) and asbestos.
RAAC is a lightweight form of concrete that was widely used in the construction of schools and other public buildings in the UK from the 1950s to the mid-1990s. However, RAAC has a limited lifespan and is prone to deterioration and collapse when water ingress occurs. The National Audit Office report revealed that 572 schools have been identified as potentially containing RAAC, with 24 of them requiring immediate action.
As part of its comprehensive survey programme, the DfE has identified 300 schools that are already undergoing specialist structural surveys to detect the presence of RAAC. The surveys aim to assess the condition of school buildings and prioritise those in urgent need of remediation.
The Lingering Threat of Asbestos in School Buildings
Another major concern in school buildings is the presence of asbestos, a material that was widely used until its ban in 1999. It is estimated that around 13,800 system-built blocks in schools still contain asbestos, with 3,600 of them potentially more susceptible to deterioration.
The DfE has also been conducting surveys to identify the extent of asbestos in schools, and as of March 2023, 93% of schools have responded, with over 80% identifying asbestos in their buildings. Again, the DfE is working to ensure that asbestos in schools is properly managed and that the necessary precautions are taken to protect students, staff, and visitors.
Funding Challenges and the School Rebuilding Programme
One of the underlying issues contributing to the poor condition of school buildings is the funding shortfall. The DfE has recommended an annual spend of £5.3 billion to maintain and repair school buildings and mitigate the risks of building failure. However, the actual average yearly spend between 2016-2017 and 2022-2023 was only £2.3 billion, less than half of the recommended amount (Source National Audit Office).
To address the funding challenges and improve the condition of school buildings, the DfE has launched the School Rebuilding Programme. This aims to rebuild or repair 500 schools over a 10-year period.
Temporary modular classrooms for hire provide quick solution
Where immediate remediation works are required on a school building containing RAAC or asbestos our modular buildings for hire provide an effective solution. It provides you with a learning environment on fast leadtimes that's there for as long as it's needed, and without having to dip into Capex budgets. When the remediation or replacement of an existing school building is completed, our modular hire team simply remove the classroom.
We offer a whole range of classroom for hire configurations that create light and airy teaching spaces, with modules stackable up to four storeys high. Flexible, highly effective teaching spaces can be created easily, to your exact requirements.
Our modular classrooms for hire are prepared offsite, which means pupils and teachers face minimal disruption to the day-to-day running of the school.  Algeco temporary modular classrooms for hire offer full WiFi, 4G5G broadband, climate control and data packages.
They are suitable for all ages including portable nursery buildings and crèches for pre-school age groups. Our portable nursery buildings are configured to meet the spatial needs of the seven areas of learning and development for young children, so there's no need to compromise on facilities, even if it's temporary. We offer modular classrooms, lecture theatres for students, laboratories, sports halls, music rooms, toilets and WC facilities, changing rooms, teacher and staff welfare units and storage facilities.
Permanent offsite school buildings
If a decision is taken to replace a school building that contains RAAC or asbestos, then our permanent offsite building solutions provide a way forward. Whilst the work is being carried out – which can be up to half the time of a traditional build – pupils can be relocated to out temporary modular classrooms for hire, similar to what we are doing at Northampton School for Boys.
More schools are choosing our Seismic platform for their permanent school buildings, including the new Laurence Calvert Academy in Leeds and Northampton School for Boys. Seismic is designed in line with the government's Construction 2025 targets, whilst exceeding them in every way, delivering a building that is faster to complete, lower in carbon impact and better value than traditional construction. The standardisation developed for the platform even allows Seismic to compete with other modular solutions, with an improvement of around 30% on speed.
It's also worth bearing in mind that our permanent and temporary classrooms are fully compliant with building regulations and DfE specifications. That includes the latest acoustic and thermal performance requirements.
In summary the challenges faced by school buildings in the UK, including the presence of RAAC and asbestos, highlight the urgent need for action. Comprehensive surveys, targeted funding, and latest offsite building solutions provide a way of navigating through that ensures safety and continuity of education.
To find out more about our temporary and permanent educational buildings, a great place to start is our home page.