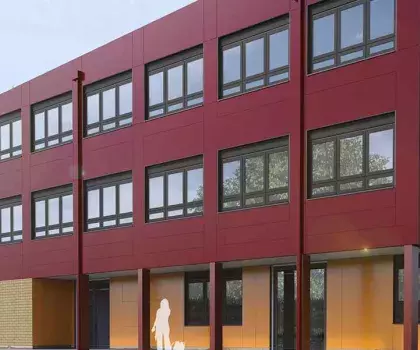 Algeco Offsite secures £19.2m Leeds Academy project
We have just received news that Algeco has been awarded a £19.2m contract to build Laurence Calvert Academy Middleton Complex in Leeds. The Department for Education (DfE) project was procured through the Mod-C Secondary School Framework.
Work begins on site at the start of June 2022, with a planned completion date in August 2023. Algeco is acting as Principal Contractor to provide a full turnkey solution involving construction of a three-storey whole school block and associated external works. Our factory in Carnaby, East Yorkshire, has already geared up to begin offsite manufacture of the school in the next few weeks.
 Laurence Calvert Academy Middleton Complex is a 1,050 place (7FE) new build Secondary school for pupils aged 11 – 16. The new school is being created to meet the growing need for secondary school places in Middleton, south Leeds, and is being funded by the Department for Education (DfE). The school will be operated by the Cockburn Multi-Academy Trust (Cockburn MAT), and will be known as Cockburn Laurence Calvert Academy.
It will be delivered using our steel frame modular solution. A total of 192 modules will be supplied from our Carnaby factory, along with a hybrid build for the sports hall areas. The works involve construction of the whole school block and associated external works.
James Withey, Managing Director at Algeco Offsite Solutions, said: "Securing Laurence Calvert Academy is the latest significant new business win for us. We have ambitious growth plans in place as we look to leverage the benefits of being part of the larger European Algeco business. We have extensive experience in delivering offsite building solutions for the education sector and this, along with our business processes, helped us secure this project."
He added: "We approach all our projects using Design for Manufacturing and Assembly (DfMA), which means Laurence Calvert Academy will gain all the benefits of product standardisation, safety, quality, delivery and building performance. DfMA also helps us deliver clear efficiencies to unlock many of the barriers in traditional construction centred around minimising the macro impacts of inflation, labour availability and waste reduction."
The fact that we operate our own modular manufacturing facility provides complete control of the whole process from start to finish. We  continues to invest in Building Information Modelling (BIM), DfMA and Lean Manufacturing techniques, which enables us to supply finished offsite buildings more efficiently, with greater levels of factory completion and of higher quality than that achieved in traditional construction.
The academy is named after Sergeant Laurence Calvert who was a former student and was awarded a Victoria Cross in 1918.
To find out more about Algeco Affinity, visit: https://www.algeco.co.uk/permanent