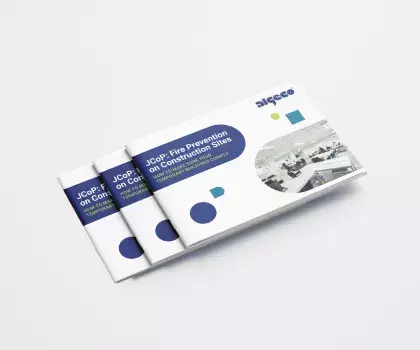 New Algeco JCoP guide helps customers comply with version 10.1
Algeco, Europe's leading modular and offsite building solutions brand, has unveiled a new customer guide in response to recent updates to the Joint Code of Practice (JCoP): 'JCoP: Fire Prevention on Construction Sites - How to make sure your temporary buildings comply'.
The Guide sets out requirements of the newly updated JCoP (Joint Code of Practice) version 10.1 and how this relates to temporary buildings and temporary accommodation used on sites during construction works.
JCoP is an important and useful document for construction professionals. It is often referenced  in insurance contracts and is recognised as 'best practice', which means that it's definitely worth getting hold of a copy of the Algeco guide.
Edition 10.1 of the code was published on 23rd January 2023 and replaced the 10th edition, published in August 2022 and has now been withdrawn. Section 13.3 of JCoP 10.1 has been amended, but not the definition of a "temporary building" or the desired metre gap from existing buildings.
Algeco offers a full range of temporary buildings and temporary accommodation that comply with the new requirements of JCoP 10.1 when they are located within 6 metres of a building under construction or refurbishment and/or other permanent buildings.
Algeco also offers turnkey solutions to make compliance even easier. Services include a host of fire detection and protection products and alarms with remote monitoring, site security systems and welfare facilities.  
The user-friendly, easy to understand guide also includes important advice on: What you need to do for your site accommodation to comply with JCoP 10.1; Requirements for fire rated site accommodation and how HSG168 requirements differ; along with a frequently asked questions & answer section.
James Cowell, UK Technical Director at Algeco, said: "The objective of JCoP is simple – to prevent fires on construction sites, and our new guide details important information on how to do this when choosing temporary site accommodation."
James added: "We have just completed a comprehensive fire testing programme on our product range to confirm compliance with the new Code. I'm delighted that we have passed, and the appropriate products are included for the different scenarios of JCoP in the guide. It is essential reading for anyone involved in the process of acquiring site accommodation because the guide makes complying very easy for sites."
The scope of 10.1 edition of the code applies to all projects where temporary site accommodation buildings are used that have a main contract value of £2.5m or above. It also applies to smaller value contracts where they are part of a larger project.
Although it is not being compulsory to follow the code, compliance usually forms part of an insurance contract and in these circumstances, non-compliance could result in insurance ceasing, or being withdrawn on the project.
Consequently, compliance with the code is becoming more important for contractors looking for favourable insurance terms.
To download  'JCoP: Fire Prevention on Construction Sites - How to make sure your temporary buildings comply' visit: https://www.algeco.co.uk/jcop-fire-prevention-construction-sites
To find out more about Algeco site accommodation solutions, visit: https://www.algeco.co.uk/temporary/site-accommodation-hire.
Notes to editors
About Algeco
Algeco is a long-established brand in the European modular services and infrastructure industry, originally formed in 1955. The brand has consistently achieved a string of industry firsts; from creating modular site accommodation; to introducing the first stackable modular accommodation in 1965; and more recently pioneering innovations in volumetric offsite solutions. Algeco now offers a vast range of physical space solutions from temporary accommodation and storage solutions for building sites, through to highly sophisticated design and build permanent multi-storey offsite solutions for business and the public sector.
In the UK, Algeco is Headquartered in Peterborough, Cambridgeshire and offers a huge range of turn-key portable and modular building solutions for hire, including modular site accommodation, portable cabins, secure storage containers and portable toilets, all available from strategically placed regional locations throughout the UK.
Modular buildings for hire offer virtually unlimited spaces with unrivalled flexibility, suitable for quality offices, classrooms, children's nurseries, and health centres and designed to meet individual layout requirements.
Algeco design and build permanent solutions utilise modern methods of construction to offer inspirational single and multi-storey spaces designed to customer specifications, safely, quickly and consistently.
In the UK, Algeco employs over 1200 people and has a turnover of c£200m. For more information, visit www.algeco.co.uk
About Modulaire Group
Modulaire Group owns the Algeco brand and is a leader in European modular services and infrastructure. We create smart spaces for people to live, work and learn. Our business is designed to help customers find the right space solution, no matter what their requirements. Modulaire Group has operations in 23 countries with approximately 288,000 modular space and portable storage units and 4,400 remote accommodations rooms.
Modulaire Group published further information on ESG matters on its website, particularly related to our sustainability-linked financing and related limited assurance of data in accordance with the recommendations of the TCFD initiated by the Financial Stability Board. Page 6
For more information, visit the website at www.modulairegroup.com.