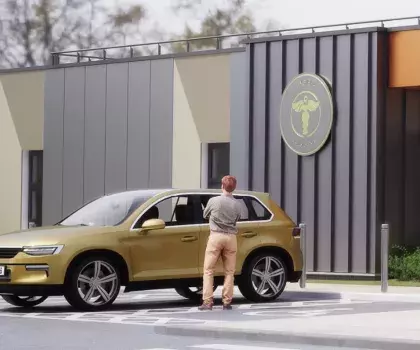 Algeco unveils new Hygieia Community Diagnostic Centres at Healthcare Estates
Algeco, in partnership with Hygieia, has developed a new range of standardised CDCs (Community Diagnostic Centres) using its revolutionary platform design modular construction system. 
Hygieia, a consortium of leading companies who have wide experience of creating efficient, modular buildings for the healthcare sector, now offers a range of three standard sizes for CDCs: Small, Medium and Large, based on Algeco's modular construction platform.
Algeco unveiled the new CDC's at this year's Healthcare Estates at Manchester Central, 10-11 October, receiving a huge amount of interest from health providers looking for much needed additional diagnostic facilities on a short leadtime.
This new CDC's deliver a more cost effective, rapid build solution to NHS Trusts and the private sector. They are offered with a full design, delivery, construction and finishing service, so that customers can start using their CDC from Day One. It also incorporates all servicing, including specialised electronics needed for sensitive imaging equipment.
The CDCs provide local communities with fast and flexible access to a range of checks, scans, and tests closer to home. They reduce the number of hospital visits and reduce waiting times for patients by diverting people away from hospitals.
Algeco and Hygieia's ability to offer a full turnkey solution was achieved by partnering with some of the leading brands in the sector, such as Philips, Tata Steel, P+HS Architecture and CAD21, amongst others. The CDC's are fully compliant with HTM / HBN requirements.
Demand for diagnostic tests continues to increase as more than 85 per cent of patients seeking NHS care now require this service. Finding out what is wrong with a patient is vital to treating them as early as possible and as of April 2023, around 1.6 million people in England were waiting for a diagnostic test. This waiting list has been growing steadily since 2008.
Over the past 12 months, 24.6 million checks and scans have been carried out and the latest CDC's have now contributed to more than 4 million towards this target. The national target is that 99 per cent of patients should wait less than six weeks for a diagnostic test.
The UK currently has less diagnostic equipment than comparable countries; it has 8.8 CT scanners per million population, 25th out of 28 OECD countries, and the number of MRI units and PET scanners are also below average. NHS England estimates that demand for CT scans will rise by at least 100 per cent in the next five years.
James Withey, Managing Director at Algeco Offsite Solutions (OSS), said: "Working in partnership with Hygieia, our new CDC's provide a step change in healthcare provision by supporting the Government's aim of delivering services directly into the community. Lean manufacturing and Design for Manufacturing and Assembly (DfMA) through our revolutionary platform design are central to reducing time-to-market and enhancing value of the CDC's."
Spokesperson from Hygieia said: "Our experienced Healthcare design teams have meticulously designed and developed a Small, Medium and Large version CDCs. These standard formats have been developed to utilise Algeco's platform design modular solution…we have done the hard work so our customer don't have to."
As a member of The Institute of Healthcare Engineering and Estate Management (IHEEM), Algeco adopts a supportive and informative approach to healthcare provision.
Algeco has been successfully delivering permanent offsite schemes and temporary modular buildings for over 60 years.
Algeco is part of the Modulaire Group, a leader in European modular services and infrastructure. The Group operates under the Algeco brand across the UK and Europe, where it is one of the longest established in the modular and offsite construction industry, employing more than 4,400 people working across 22 countries.
To find out more about Algeco CDC's click here.