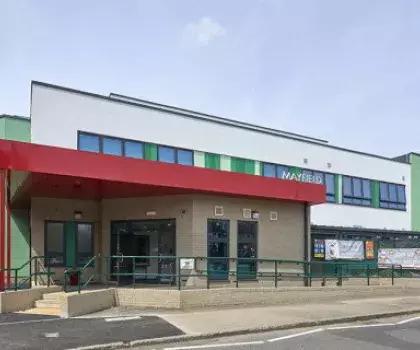 The Challenge
Operating as a 315 place 1.5-form entry school complete with a 26 place nursery, the existing buildings stood as a time-served 'CLASP' system which were in a poor state of repair, and inefficiently configured. The existing school buildings were located to the centre of the site which limited the capacity for external play and team sports.
The strategic vision for the new facility, delivered through the Education Funding Agency's (EFA) Priority School Building Programme (PSBP), was to increase the pupil intake to 420 as a 2-form entry with 30 nursery places. The scheme required the new school to stay on the site of the existing facility, with the existing pupils decanting into temporary facilities.
Our Solution
The project consisted of the relocation of the reception classroom modular building, decant of the pupils into temporary accommodation, and the construction of a new three-storey 2,214m2 building complete with drainage, new service connections and hard and soft landscaping. Finally, the safe demolition of the existing building segregated from the live operational environment.
Delivering the scheme safely, whilst the existing school facility operated, was achieved through a logistics proposal developed with the EFA and the School. Offsite construction processes limited the site activity too.