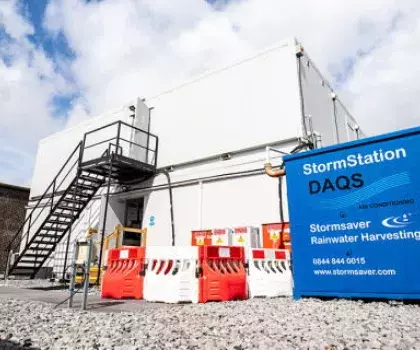 Costain: Moduflex Water Harvesting
The Challenge
Algeco has worked with Costain on a number of successful projects in the past, each with specific requirements. Recently, Costain decided to make use of our Rainwater Harvesting technology at an isolated site for National Grid in Felindre. Anywhere there is water capture through drain pipes, Water Harvesting Systems can be utilised. Costain rented 12x6m Moduflex bays, six stacked onto six for a total hire time of 58 weeks.
Our Solution
Rainwater Harvesting is a simple yet effective means of meeting water conservation goals, especially on secluded sites. The rainwater is collected by enclosed guttering on the Moduflex building, then it is stored and used as a water supply for the toilets, this way, no further treatment is required. This system reduces the quantity of water used at the site office, which otherwise would have to be provided in up to two 1m3 intermediate bulk containers (IBCs). This is a sustainable system which manages the use of water and results in a reduction in the use of natural resources.
For the Costain site in Swansea, Algeco predicted a saving of 82m³ per annum, based on toilet flushes six times an hour across an eight hour working day. Working on the average cost of 1 cubic metre of water at £3.19, this is a saving of £261.58 per annum, plus, it's a sustainable model that helps the environment. The Water Harvesting system that Costain hired was part of a larger order, including many of our 360 services.