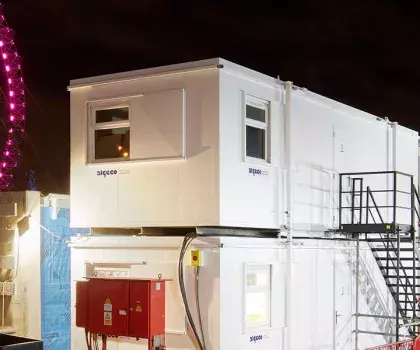 Algeco site accommodation supports London's Super Sewer
The Brief
Great progress is being made with the construction of London's Super Sewer and new riverside spaces along the River Thames, thanks, in part, to Algeco Anti Vandal site accommodation.
The new 12.5km sewer, from Acton in West London to Stratford in the East, is designed to capture 95 per cent of the sewage spills that enter the river from London's outdated Victorian sewer system.
As part of the construction, seven new areas of embankment are being created along the Thames, including Blackfriars, Chelsea Embankment and Victoria Embankment Foreshore. 
As well as creating a vital connection to the new tunnel, the project creates a new piece of embankment where Londoners will have the chance to dip their toes in the river.
The project is being constructed by a joint venture comprised of Ferrovial Agroman and Laing O'Rourke (FLO).
The Solution
FLO is carrying out work on Tideway at Victoria Embankment Foreshore and approached Algeco with a need for high quality portable site accommodation.
Following a thorough evaluation, Algeco supplied six Anti-Vandal units to Victoria Embankment Foreshore on a 50-week hire term.
The Anti-Vandal units are designed with enhanced security features to protect staff and equipment from vandalism, theft or damage.
Algeco specification site offices are fitted with double-glazed, A-rated energy-efficient windows (made from recycled PVC-U), LED lighting and heaters controlled by thermostats and timers.
With strong steel wall panels that are welded to the structure, steel window shutters, and steel doors with anti-jemmy edges to resist break-ins, site teams can be confident that they are kept safe and sound throughout the project.
The units were supplied to Victoria Embankment Foreshore from the local Algeco site, with four based around the M25 to service the capital.
A priority for FLO on this project was that the site accommodation would arrive exactly to schedule in order to avoid project start delays and the knock-on effects that causes. 
Algeco site accommodation buildings for hire is fully configurable, ranging from large open-plan spaces for collaborative working, to fully integrated changing rooms, kitchen and dining areas and meeting rooms.
The units at Victoria Embankment Foreshore were stacked two-storey to minimise the amount of ground space taken on this tight, constrained site with the River Thames on one side and a busy road on the other.   
The 

Results
Victoria Embankment Foreshore is one of the most visible Tideway sites in the heart of London.
That means the Algeco site accommodation, which his opposite the London Eye, is seen by thousands of people that visit and commute past this busy part of London every day.
Algeco delivered the six 32ft double-stacked anti-vandal units on time and on budget. Supplying the site accommodation exactly when it was needed and then decanting when the hire period ends, supported FLO on this technically challenging project.
Xabier Garcia, Section Engineer - Victoria Embankment Foreshore, said: "The Algeco site accommodation met the very high expectations of our team. As a business we understand how important it is to have high quality accommodation on site, when you need it."
He added: "We have been extremely impressed with the service and knowledge we received from the Algeco team – they gave us a handover promise and then nailed it! It took away our availability anxiety and provide peace of mind on what is a high profile project in central London."