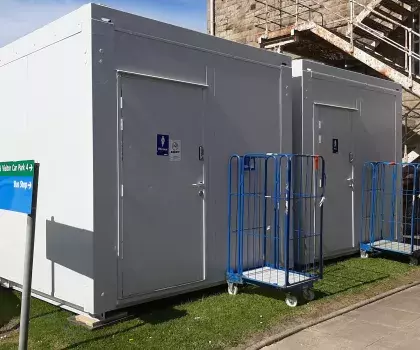 Supporting the NHS with Temporary Hospital Facilities
Hospitals and the NHS are currently working at capacity around the UK. With an overwhelming demand for facilities and space, the government has plans to create temporary hospital extensions that provides additional space for patients, visitors and staff and to comply with safe distancing guidelines.
Communities, councils and NHS officials are working together closely to plan the structures and the locations they will be built in across the country. The NHS is currently working closely with the government and portable accommodation experts like Elliott to provide extra facilities for staff and patients and to help make the environments more resilient and efficient.
The hospitals involved are:
Fairfield Hospital in Bury
Salford Royal Hospital
The Oldham Royal Hospital
Rochdale Infirmary
North Manchester General
We're providing 21 x 32' units to use for testing, 2 gatehouses and a bespoke Moduflex Security Cabin that has a 360-degree view to ensure safety measures are firmly in place for both patients and staff. Workstations, lockers and canteens will also be supplied to help with the capacity pressures of the hospital, and to give staff a safe place to store their belongings, take a break and prepare for work.
We have provided many solutions to support our Health Service and Key Industries across the UK in the fight against the Coronavirus epidemic. We were able to respond to Birmingham's Nightingale Hospital within 24 hours by providing accommodation, site welfare and extra facilities for the key workers, and we are proud that our fast, reliable service has contributed to the exceptional work our NHS is carrying out in these unprecedented times.
Our range of service options including temporary emergency service accommodation, welfare, testing and changing facilities can be deployed at minimum notice and to any location across UK.
Please get in touch if you'd like to know more.