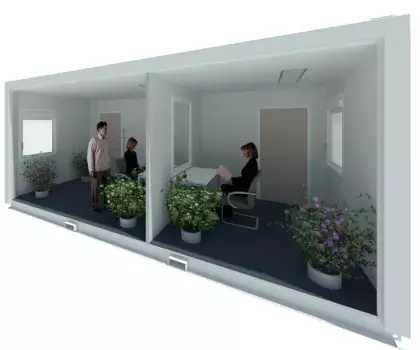 Social Distancing Visitor Unit for Care Homes
Introducing Elliott's Social Distancing Visitor Unit for Care Homes
Approximately 400,000 older people in the UK live in care homes, and they have been greatly affected by the pandemic. But as lockdown eases, we are hopeful that care home residents will be able to be visited by their loved ones.
As a care home manager or owner, getting ready for your residents to have visits from their loved ones means you need to ensure that your residents, staff and visitors minimise the risk of spreading infection in accordance with the current Government guidelines.
Elliott has supported a number of NHS emergency projects to help with the extra space required during this pandemic and we are here to support care homes too. We have designed a visitor unit to enable social distancing measures to support getting your Care Home ready to accept visitors.
Social Distancing Visitor Unit
Our Social Distancing Visitor Unit features two rooms, both with an external door, a window or screen in between and a two-way speaker system, allowing resident and loved one to see and talk to each other with ease, without the worry of infection.
The benefits are as follows:
Welcoming and safe
Provides opportunity for relatives and friends to see and talk to their loved ones without entering the care home
Enables social distancing measures to be undertaken
Speaker system fitted to ensure good communication between relatives
Can be easily positioned on car parks or gardens
Can be supplemented with toilets and welfare facilities for visitors
Units can be installed with Hand Sanitisers as optional extra
This is the first of its kind on the market, and it will ensure that you have to make little changes to your care home building.
We also provide other services to care homes to assist you in protecting the welfare of your residents and staff, including protective screens, hand sanitiser units, site decontamination and more. We can also help you provide toilets to visitors to your care home and temporary fencing should you need help with traffic management.
If you would like any more information on our social distancing visitor unit for care homes, please get in touch today.