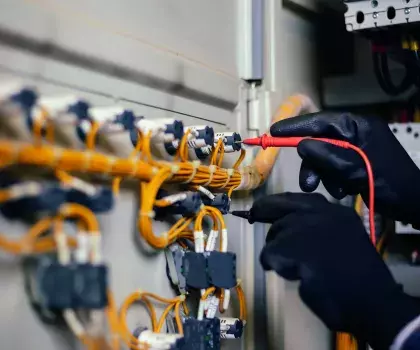 New electrical testing spearheads extended 360 turnkey service from Algeco
Algeco, Europe's leading modular and offsite building solutions brand, has introduced a new post handover electrical testing service for its full range of site accommodation.
Alongside this is an extended choice on Algeco 360 turnkey climate control and site WIFI.
The new electrical testing element of Algeco 360 turnkey service provides customers with peace of mind that the site accommodation meets all requirements post-handover and includes an NSI certificate just 5 days after testing.
Under the Health & Safety Act 1974 (HSWA) and the Electricity at Work Regulation (EAWR), employers have a legal duty to ensure the workplace is a safe environment. Algeco electrical testing service provides customers with an electrical installation condition report for all its site accommodation solutions.
The condition report is carried out in compliance with BS7671 2018 IET Regulations for Electrical Installations and IET (Institute of Engineering and Technology) Guidance Note 3 Inspection and Testing. 
Electrical testing on site is important because once site accommodation is delivered, customers will connect to a local/generator electrical source. These new connections require re-testing to ensure everything is safe for use. Algeco units, as is all site accommodation modules, are only tested for delivery and not after on-site installation or on obligatory annual service.
The climate control offering means Algeco customers can reduce energy consumption within their site accommodation by up to 65% - potentially saving hundreds of pounds or more each year – as wells as CO2 emissions. Functionality is extended on climate control to user needs as well as providing year-round climate control, heating, air conditioning and dehumidifier, all in one unit.
Being more responsive means that Algeco climate control heats and cools workplaces quicker, whilst reducing electrical load. This means it can be used as an on- or off-grid set up. Remote control and optional WIFI allow temperature to be managed to a fine degree.
The WIFI element of the extended Algeco 360 turnkey service allows customers to stay connected on construction sites with new 5G broadband and large antenna added to the range. These blend the latest technology with expert support to create a bonded cellular connection with the UK's leading carriers.
Customer can continue to choose either Plug 'n Play or professionally installed and managed WIFI service. Algeco has link up with a professional installation partner that can install and remotely manage the system wherever the site is located. Algeco WIFI products can be securely connected to corporate networks, enabling site teams to access cloud applications securely.
Both 'plug-and-play' and professionally installed WIFI packages have access to tech support over the telephone between the hours of 09:00 and 17:00 (Monday – Friday).
Chris Coxon, Head of Marketing at Algeco, said: "Our new and extended 360 turnkey services have been welcomed by busy contractors on site that are tired of managing multiple suppliers, purchase orders and communications. Now, with just one point of contact, our 360 turnkey services does all this for them. And with the extended options on climate control and WIFI, plus new electrical testing, it really couldn't be easier - a full turnkey solution, including social enterprise options, providing you with everything you need from just one supplier!"
Algeco 360 turnkey services from social enterprise partners encompasses water dispensers for hire, signage, period products and carpet tiles. Social enterprises are businesses that reinvest most of their profits into social or environmental initiatives and projects.  They often employ people who face barriers to finding work elsewhere.
Whilst many organisations wish to work with social enterprises, they lack the infrastructure or expertise to build relevant partnerships and networks and operate them on a national and regional basis. Algeco 360 turnkey service does all this on behalf of customers.
Other 360 turnkey service options from Algeco include power tool charging station hire; white good hire; mobile car charging points; Jackpad foundation for hire; effluent tank hire; temporary steps, staircases and ramps.
To find out more about Algeco 360 turnkey service and discover more about climate control, WIFI and electrical testing, visit: https://www.algeco.co.uk/temporary/support-service